Questions?
Call 603 659 5335 or email me
HUMAN Speakers is still building and shipping speakers
during this public health crisis More information.
Best viewed in "landscape" mode.
ACC 004: Speaker Terminal and Crossover Upgrade
(Illustrated easy installation guide)
Many older speakers use spring clip terminals, or worse, little screw terminals, on the back to hook up your speaker wire. These have three distinct disadvantages:
They are awkward to use. Incredibly awkward, in some cases.
It is very difficult to attach heavier gauge speaker wire to them. Impossible, actually.
When they break, they are very difficult to fix. And they all eventually seem to break.
Not only that, but in order to survive in a very price-competitive market, most manufacturers tend to avoid higher grade parts that most people might not immediately appreciate, in favor of cheaper parts that audiophiles sneer at, like aluminum electrolytic capacitors and rather skimpy internal wiring.
The ACC 004 "family" of products that I have developed address all of these issues neatly, while being designed to deal with the typical "rectangular hole with terminal plate inside the box" designs of many speakers from the 60's and 70's. They all start with a high quality, non-resonant 5" by 6" backplate I have custom machined out of 1/4" thick vinyl-covered MDF, with a pair of gold-plated, color-coded five-way binding posts securely attached on standard 3/4" centers: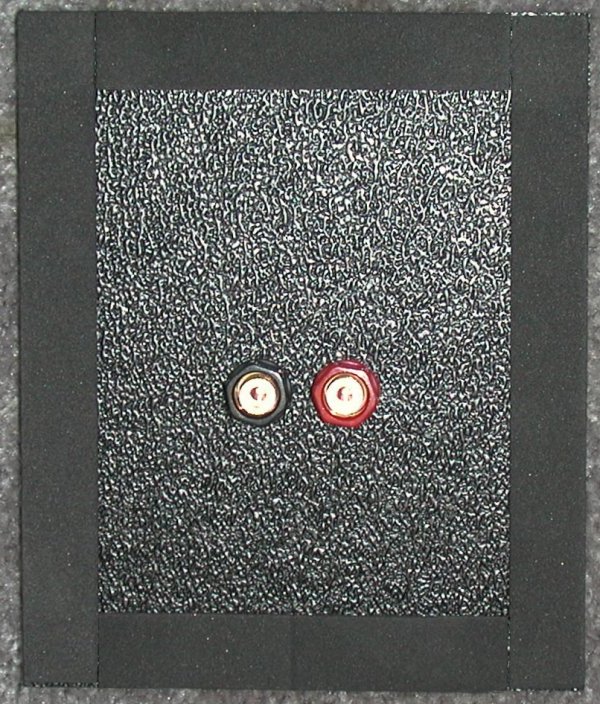 This design is optimized for mounting inside rear panels that are 5/8" or more thick, which most good speakers are. The binding posts, when tightened, do not stick out past the back of the panel, and the screws don't stick through the panel after installation. They easily accomodate up to 10 AWG wire. Four 3/4" #8 phillips pan head screws to mount each one are included with every variation. I also provide an illustrated installation guide.
The ACC 004 ($18.00 each) is available as the backplate alone (with solder tabs mounted on the other end of the binding post studs), if you want to add your crossover parts and wires (old or new) and install it to upgrade your speaker terminals.
I also build several specialized versions which are appropriate upgrade replacements for the crossover, wiring and backplate used in most EPI/Epicure and Genesis Physics speaker systems. They all use oxygen-free copper 16 gauge wire, with female quick disconnects to attach to your drivers, audiophile quality polypropylene film capacitors, and where appropriate, custom made air core choke coils and high power ceramic resistors .
---
The ACC 004 A ($32.00 each) has a single capacitor, 6 dB/octave filter, for use in these EPI and Epicure speakers:
EPI 50, 60, 70, 90, 100, 101, 105, 120, 150, 200, Epicure 5, 10, 14, 15, and many "A" series EPI models.
See ACC 004 A - EPI and Epicure for more details.
It is also used in these Genesis Physics models:
See ACC 004 A - Genesis Physics for more details.
---
The ACC 004 B ($40.00 each) has a second-order, 12 dB/octave crossover set up on it, as used in these Genesis speakers:
Genesis I, 1+, 2, 2+, V-6, 10, 20, 110, 210
It is also used to upgrade the EPI 140C and Epicure 11.
---
The ACC 004 C ($42.00 each) is set up to replace the terminal, crossover, and wiring harness in the "double module" EPI speakers (two woofers and two tweeters) such as these:
EPI 180, 201, 201A, 202, 250, and Epicure 20+
The ACC 004 D ($44.00 each) is set up to replace the terminal, crossover, and wiring harness in the "double module" speakers that require much longer wires such as these:
---
The ACC 004 E ($45.00 each) is specially made for the Genesis V-6. It would also be highly appropriate for the various early EPI six inch two way models.
---
The ACC 004 F and ACC 004 G ($ each) are complete wiring harnesses with new ccrossover components for the EPI 400 (and Epicure 400+) and the EPI/Epicure 1000, respectively.
---
The ACC 004 I ($95.00 each) is made to replace the terminal, crossover, and wiring harness in the EPI 601 and 602 speakers.
---
The ACC 004 X is a crossover/backplate assembly built to duplicate the setup in any vintage speaker. You send me the old crossovers to work with, and I build you a set of custom replacements. Pricing of these is determined on a case by case basis.
---
A quick and dirty fix for broken terminals
This section used to be the only information on this page, back in the 90s before I developed and refined the above products, hence the page's name: "terminal repair".
If you have broken or damaged spring clip terminals, and you want to simply make them work again without digging into your speaker, here is a simpler, if slightly uglier, solution.
Bust off the old plastic caps and moving spring clip parts, leaving only the metal part which goes through the board to the internal wiring. Carefully solder a 6" or so "pigtail" of good wire to them, and solder some nice connectors on the other end.
These will work perfectly, and although they are not particularly attractive, you rarely see the back of the speaker.
Here is a photo of one I fixed this way for a customer: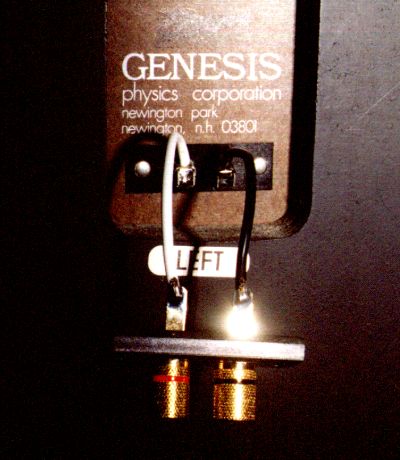 * * *
Top - Contact -
General Topics (Home)
New Speakers - Owner Support - DIY Projects
EPI and Epicure - Genesis Physics -
All Other Speaker Repairs
© Copyright - All Rights Reserved
7 Kelsey Road, Lee, New Hampshire 03861
Like HUMAN Speakers on FaceBook:
Prices can change and specifications will improve without notice