Questions?
Call 603 659 5335 or email me
The long-awaited HUMAN 81 DK is now available.
Best viewed in "landscape" mode.
EPI & Epicure Speakers:
EPI M50 - "The Mite"
specifications - crossover schematic - brochure text - order parts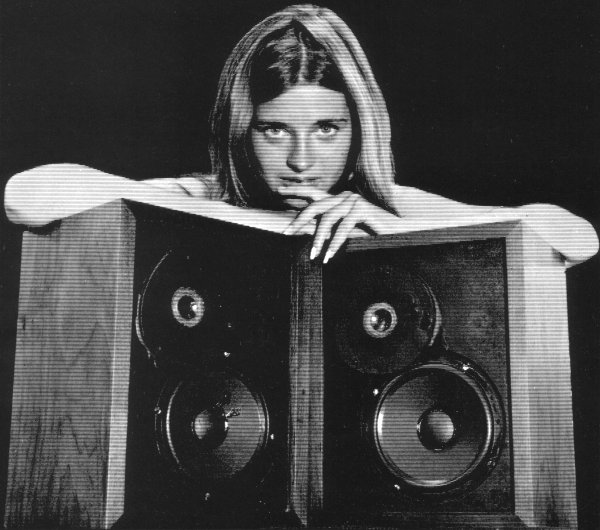 Above: Photo from the original "Brown Booklet."

Right: A recent photo of a pair provided by the owner. (used with permission)

Below: A pair I fully upgraded with the K-61E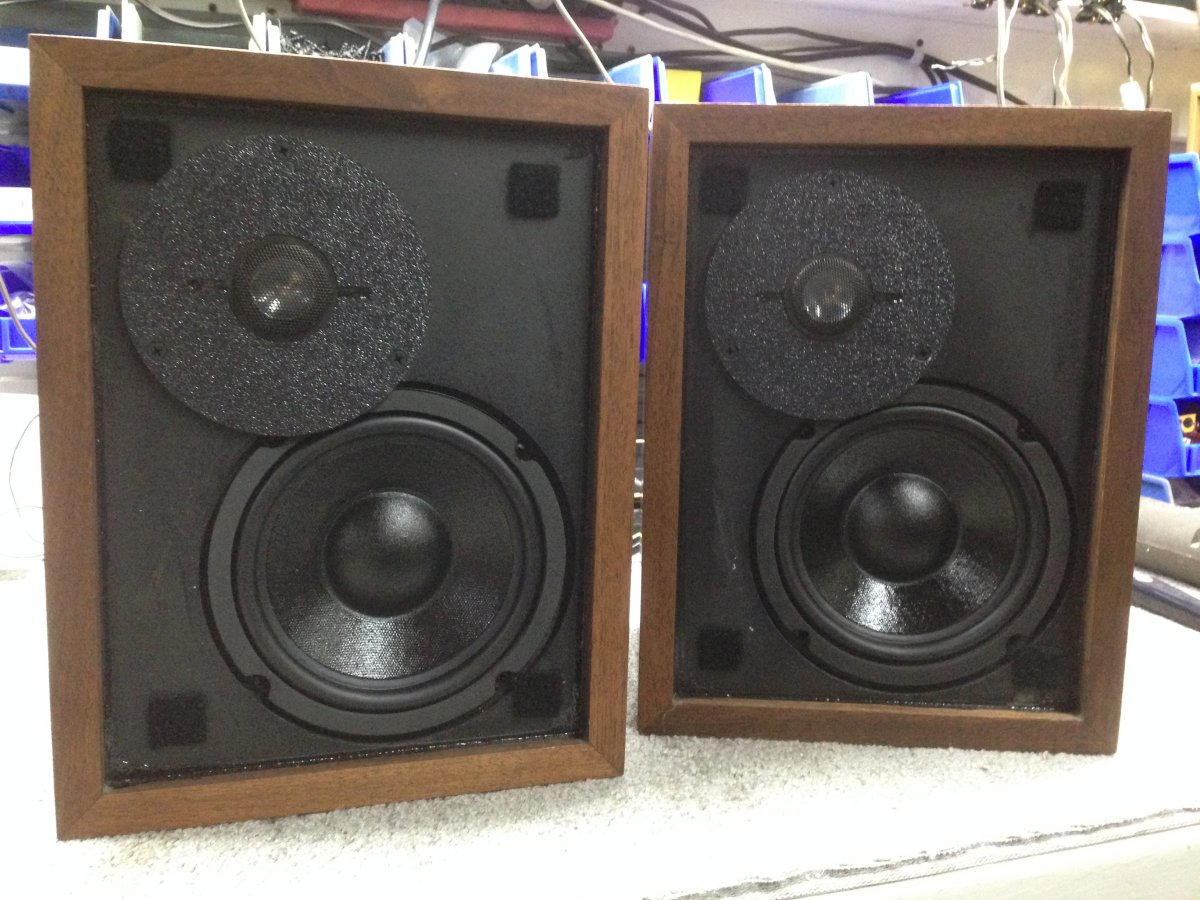 Specifications
photo/top - crossover schematic - brochure text - order parts
Dimensions:
13" x 10" x 8"
Weight:
15 lbs
Response:
50 to 18k Hz
RMS Power:
10 to 35 watts (very conservative rating)
Crossover: 1800 Hz
ACC 004 K
$34.00 each
6" woofer
PRO 007
$71.00 each
1" air spring dome tweeter
PRO 002 ME1
$69.00 each
Complete rebuild kit
K-61E
$344.00 / pair
Impedance:
8 ohms
MSRP:
130.00
Built:
1974-77
Crossover schematic
photo/top - specifications - brochure text - order parts
(The crossover components are often seen attached to the "-" side of the tweeter.)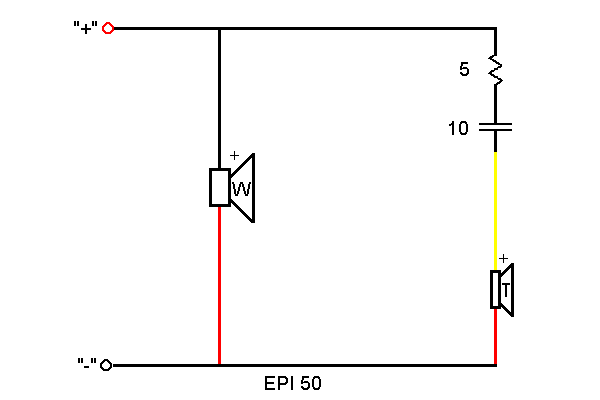 Key to Crossover Symbols and Component Values (in a new window)
Brochure text
photo/top - specifications - crossover schematic - order parts
The following is copied from the "Brown Booklet":
EPI's least expensive speaker of the line was one of the most difficult to be developed. The EPI design staff were convinced they could produce a smaller, less expensive speaker than the already popular Model 100, but knew that this product had to be able to compete successfully in the already most highly contested price bracket of hi-fi, without sacrificing the company's ideals of linear sound. The resultant development of the smaller EPI module, a tiny walnut cabinet, no rheostat control, and packaging in pairs for shipping ease, lowered the cost significantly enough to produce the Model 50.
EPI's method of avoiding the compromises of sound purity generally accepted for speakers in this range was put their finest and most expensive [ed. note: and only] tweeter along with their highly damped, low resonant 6" woofer in a very small enclosure. In this way these quality components could become perfectly linear by taking advantage of specific room placements to increase bass response many times. By placing the EPI 50 in, or close to, the corners (floor or ceiling) of the listening room, the sides of the room become an extension of the cabinet strcture and, in doing so, transform the tiny cabinet of "The Mite" into a massive system.
"The response extends from 45 to 16,000 HZ +/- 3 dB, and dispersion was also excellent ... In our listening tests, the Model 50's transient response stood out and we found we could feed the unit a lot of power before it would break up. An open sound with clear highs and solid bass is characteristic of this stereo pair." - Audio Magazine, November 1971
The important stereo phasing and accurate reverberent field characteristics of such a highly dispersive speaker make it well suited for front or rear channel operation regardless of size or price considerations. No other speaker we know of in this price range can come close to the performance of the EPI Model 50.
* * *
Top - Contact -
General Topics (Home)
New Speakers - Owner Support - DIY Projects
EPI and Epicure - Genesis Physics -
All Other Speaker Repairs
© Copyright - All Rights Reserved
7 Kelsey Road, Lee, New Hampshire 03861
Prices can change and specifications will improve without notice