Questions?
Call 603 659 5335 or email me
The long-awaited HUMAN 81 DK is now available.
Best viewed in "landscape" mode.
EPI & Epicure Speakers:
A timeless classic: the EPI M100, 100V, and 100W
Build a pair yourself using HUMAN parts
See the gallery of projects below
Photos
Right: The first version (photo source: old EPI promo sheet)

Below: A pair of the second version (photo source: Al Erkanli)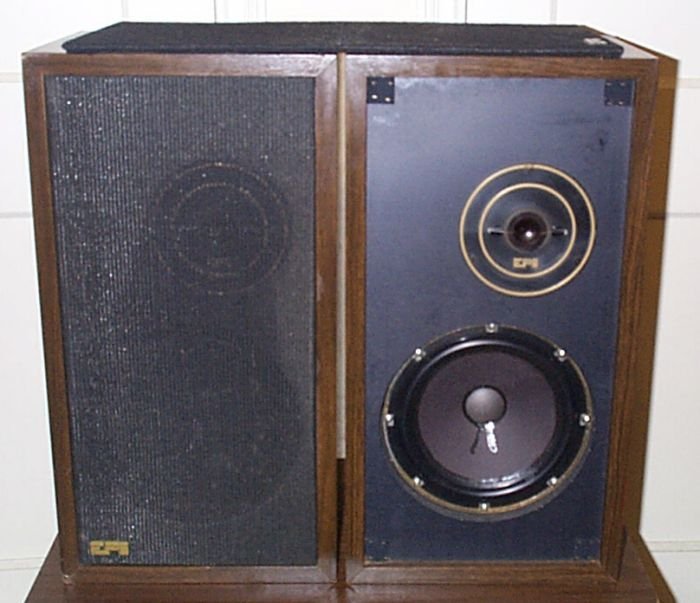 History
The EPI 100 loudspeaker is a timeless classic indeed. Originally designed in the late 1960s by Winslow Burhoe, it was his first "module" speaker. The module concept was a woofer and tweeter that had the same efficiency, and frequency reponses that matched each other. The woofer was designed to roll off on its own at 1800 Hz. The tweeter was designed to do the same thing. The only need for a "crossover" was something to protect the tweeter from bass frequencies, hence the incredibly simple use of a ten microfarad capacitor to do the job.
This model stayed in production well into the 1980s, selling hundreds of thousands of units, and for several years was highly recommended by Consumer Reports.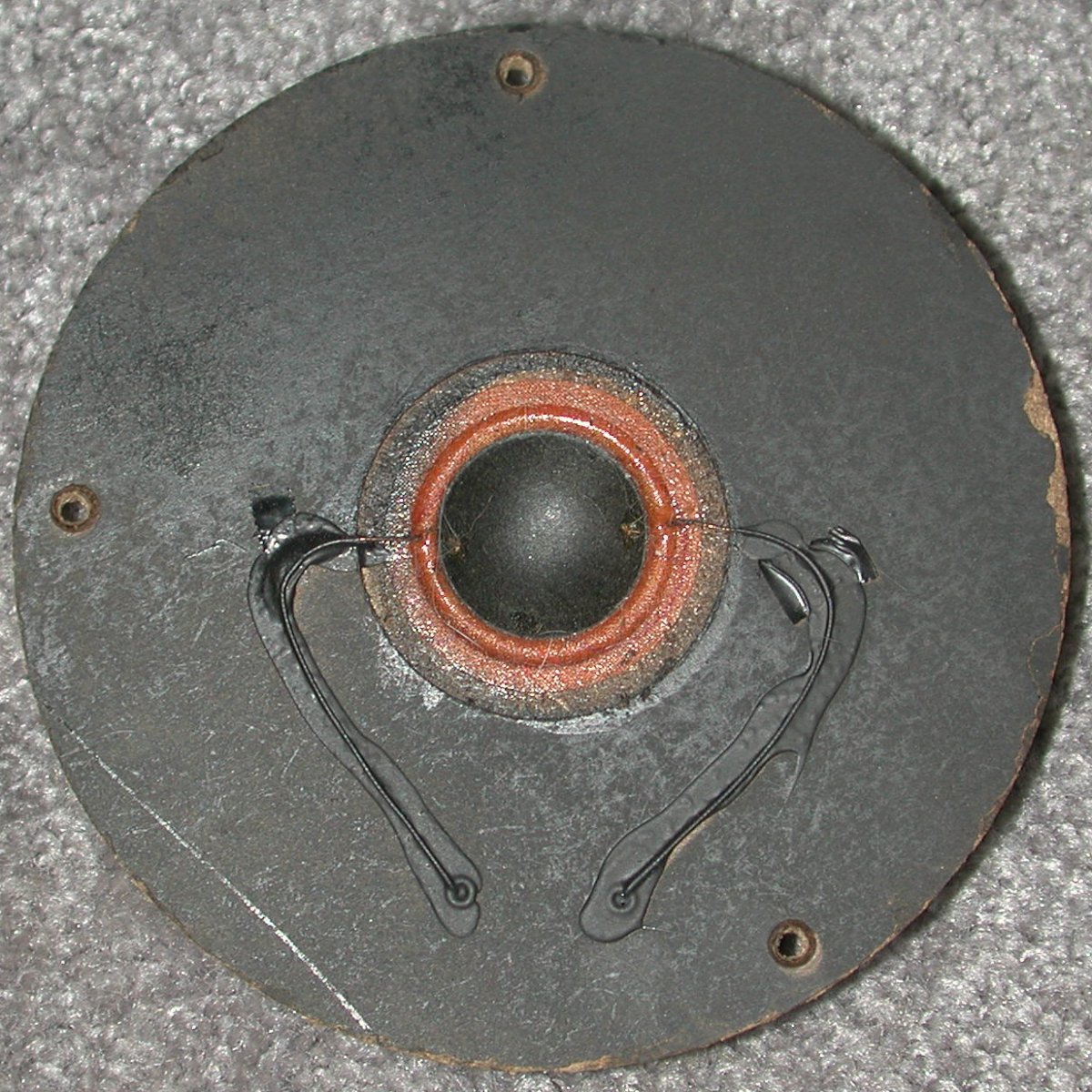 There were three distinct generations (with plenty of overlap) - the first featured a tweeter built on a five inch diameter Masonite® faceplate, with a paper concave dome. The voice coil was centered and cooled by four tiny pieces of foam and some silicone heat sink compound. This version's woofers usually had butyl rubber surrounds and are often still working forty years later. The coarse weave black or medium brown grills were glued and nailed on, and sported the brass badge with the round, stylised "EPI" logo. Most of these were made in walnut veneer only, and were referred to as the "M100".
The next generation upgraded the tweeters to a phenolic dome, and incorporated Ferrofluid® cooling and damping. These were built on a five inch round black plastic faceplate with two gold rings and the EPI "wave" logo. The woofers changed over to foam surrounds, and the grills were held on with Velcro, and later, plastic-framed with mounting pegs and sockets. The badge changed to a gold plastic bold face "EPI" with a horizontal line crossing all three letters featuring a stylised sine wave in the middle of the P. They were sold as the "100V" in a simulated walnut vinyl finish and "100W" in real walnut veneer.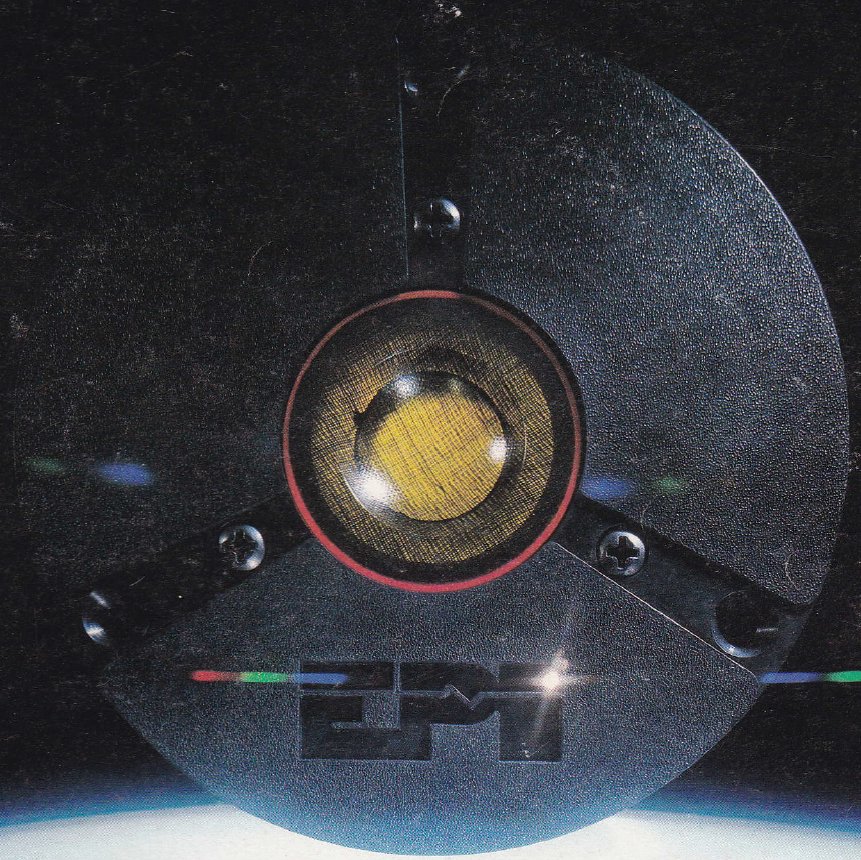 Finally, in the early 1980s, the whole model line got a facelift, and all but the 100 acquired an "A" prefix to their model numbers. The tweeter face plate was slightly smaller in diameter, at about 4 3/8 inches, with a red ring visible around the dome and the EPI logo molded into it. For some reason I gave this version its own page even though technically it was never called the A100. These were only available in a walnut vinyl finish. The spring-clip input terminals were finally tolerable.
The Epicure 10 was basically exactly the same speaker system, with a different tweeter face plate and blue woofers, which existed for some marketing purpose lost in the mists of time.
Parts and Specifications
Dimensions:
21" x 11" x 9"
Weight:
25 lbs
Response:
45 to 18k Hz
RMS Power:
12 to 50 watts (very conservative rating)
Crossover: 1800 Hz
ACC 004 A
$34.00 each
8" woofer
PRO 001
$76.00 each
1" air spring dome tweeter
PRO 002 ME1
$69.00 each
Complete rebuild kit
K-81E
$363.00 / pair
Impedance:
4 ohms DC, 8 ohms nominal
MSRP:
198.00 - 240.00 (vinyl)
240.00 (walnut)
Built:
1967 (?) - 79
Crossover Schematic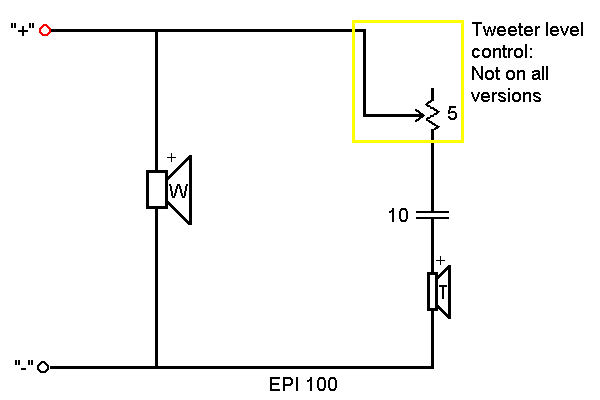 Often seen wired as: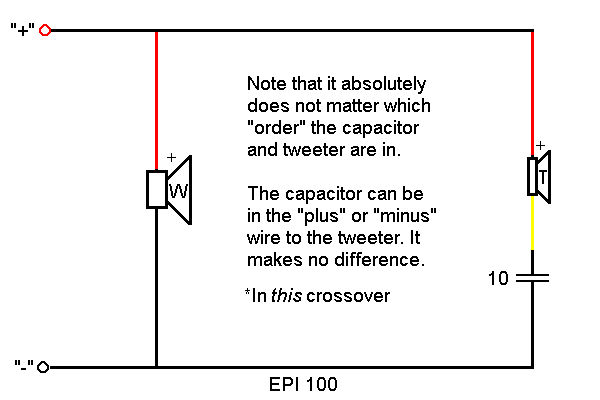 Key to Crossover Symbols and Component Values (in a new window)
Brochure Text
The following is copied from the "Brown Booklet":
The Model 100 was EPI's first and most popular speaker. Winslow Burhoe designed it as the ultimate bookshelf loudspeaker. As an acoustical engineer, his technical criteria for performance was extended frequency response (the ability to reproduce the very lowest and very highest musical frequencies), extreme linearity (the speaker's ability to reproduce any signal fed to it accurately with no exaggeration or deterioration), excellent dispersion (filling any listening room with equal musical energy over the whole range of the speaker), minimum distortion, both harmonic and intermodulation (to eliminate listening fatigue), and a cabinet compact enough to fit on any bookshelf.
The fact that Winslow Burhoe achieved all his goals in a speaker selling at a modest price is proof of his status as one of the foremost speaker designers in the audio industry. The Model 100's accurate tonal balance combined with exceptional dispersion makes it an ideal speaker for people who really enjoy live music. Whether you are listening to a full symphony, thunderous rock or progressive jazz, the Model 100 almost disappears, leaving only the music; an accomplishment very few speakers, regardless of price, can equal.
"The sound quality of the EPI 100 was very natural and "easy". The more we listened to it, the better we liked it, and it was one of the most faithful reproducers we have had the pleasure of hearing ... the EPI 100 is comparable in most respects to some of the best - and most expensive speaker systems we have tested ..." Stereo Review, May 1970
Its compact size allows it to be placed almost anywhere in the listening room. However, EPI strongly recommends, for optimum performance, locating this speaker in any two sided plane (on the floor or ceiling against a wall or in a bookshelf, closest to either side wall). Hand rubbed walnut cabinets and rich black grills give this stereo pair a handsome, contemporary appearance that should blend well with any decor. The Model 100's extremely high power handling ability enables it to fill even the largest of listening rooms with surprising ease.
As proof of each Model 100's performance, EPI packs an individual frequency response graph with each speaker, showing the extension of its frequency response and its linearity. No other speaker manufacturer that we know of does this.
81/81+ and 81-10 Kits
| | |
| --- | --- |
| Steve recycled a pair of ElectroVoice cabinets for this pair | Rod built these using American walnut |
| | |
| --- | --- |
| Al built these to match his 88-41s | Russ used the parts from his 81s to make these |
| | |
| --- | --- |
| Fred's 81-10s and story | Two slightly different pairs in Thailand |
| | |
| --- | --- |
| A pair of carpet-covered ones I built | Brian in Tasmania made some lovely examples |
| | |
| --- | --- |
| A work by artisan Jeffrey Cooper titled "Acoustic Impressions" | A customer had me rebuild his Advent Prodigy towers, leading me to offer this upgrade package as a kit |
| | |
| --- | --- |
| Jimbob recycled a pair of Altec-Lansing cabinets for his first pair | Jimbob's next project involved making some EPI 100 clones |
| | |
| --- | --- |
| Ian made a single 81+ as a center channel to go with the 1000s he built years before. | Russ B built this beautiful pair of 81-10s |
| | |
| --- | --- |
| Dave S. in NJ built these lovely cabinets. | 2021: Tyndall built these delightful examples. |
| | |
| --- | --- |
| I rebuilt these cool looking but pre-hifi EMI speakers into something special. | We are going to make these Pioneer speakers a lot better. |
| | |
| --- | --- |
| In early 2022, Ben put together yet another superlative pair of HUMAN kit-based speakers. | |
* * *
Top - Contact -
General Topics (Home)
New Speakers - Owner Support - DIY Projects
EPI and Epicure - Genesis Physics -
All Other Speaker Repairs
© Copyright - All Rights Reserved
7 Kelsey Road, Lee, New Hampshire 03861
Prices can change and specifications will improve without notice