Questions?
Call 603 659 5335 or email me
HUMAN Speakers is still building and shipping speakers
during this public health crisis More information.
Best viewed in "landscape" mode.
81+ Kit:
"Acoustic Impressions"
by artisan Jeffrey Cooper
Back to the DIY Gallery
Back to the K81+ page
In 2003, Jeffrey Cooper of Portsmouth, New Hampshire, built a pair of striking pieces of sculpture that also happen to be wonderful speakers.
His work was designed around the specifications I gave him for the HUMAN 81+ model, and then assembled and tested by me in the factory.
Each of the four sides features a classic work of art carved in deep relief. The top of each front leg also features a miniature carved and painted detail.
The main body is made of Spanish cedar, and the legs are maple.
Jeff has taken his impressions of these two dimensional works and wrought them in three vivid dimensions.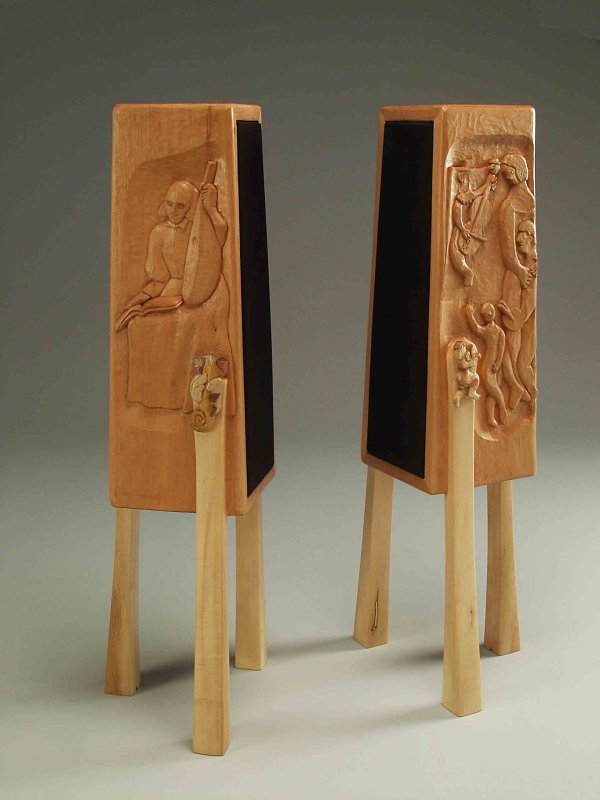 On the left, Judith Leyster's "Girl with a Lute", 1631.
On the right, a detail from the lower right of Marc Chagall's "La Vie", oil on canvas, 1964. The leg is decorated with a contiguous part of the same painting.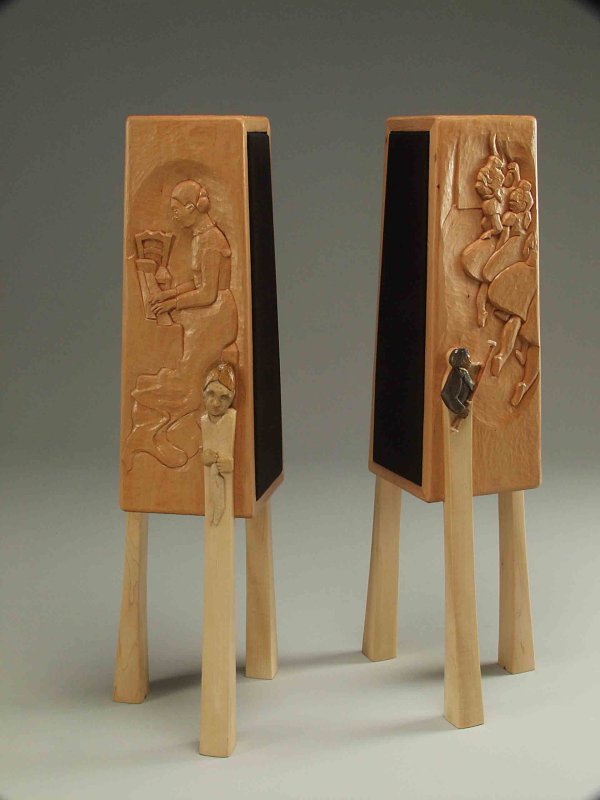 On the left, Paul Cezanne's "The Overture to Tannhäuser: The Artist's Mother and Sister", 1868 (Hermitage Museum, St. Petersburg), often referred to as "Young Girl at the Piano". The leg on this side is ornamented with a detail from the same painting, showing the mother knitting in the background.
On the right, ballerinas by Edgar Degas, circa 1879.
They stand 54" tall, and are 9 3/4" wide by 10 1/4" deep at the top, 19" wide by 15" deep at the bottom of the legs. They weigh about 45 pounds each.
More About Jeffrey Cooper
Jeffrey has been training and working as an artisan in wood since the 1970s, and the development of his own unique vision - merging practicality with whimsy - was a perfect match for this project.
His website can be found at Cooperwoodsculptor.com
Speaker stuff
The carved casing is assembled around an MDF inner box, carefully sealed and lined with lead (see lead warning).
The sturdy three-legged arrangement is perfect for stable, solid musical reproduction.
The binding posts on the back are augmented by a channel cut into the rear leg to conceal up to 12 gauge wire.
* * *
Top - Contact -
General Topics (Home)
New Speakers - Owner Support - DIY Projects
EPI and Epicure - Genesis Physics -
All Other Speaker Repairs
© Copyright - All Rights Reserved
7 Kelsey Road, Lee, New Hampshire 03861
Prices can change and specifications will improve without notice