Questions?
Call 603 659 5335 or email me
The long-awaited HUMAN 81 DK is now available.
Best viewed in "landscape" mode.
Model 81 DK
$1270.00 /pair
(see more photos below)
(build a pair yourself using HUMAN parts!)
Order now
The HUMAN 81 DK is the best possible two-way speaker I can build using my hand-made woofers and tweeters.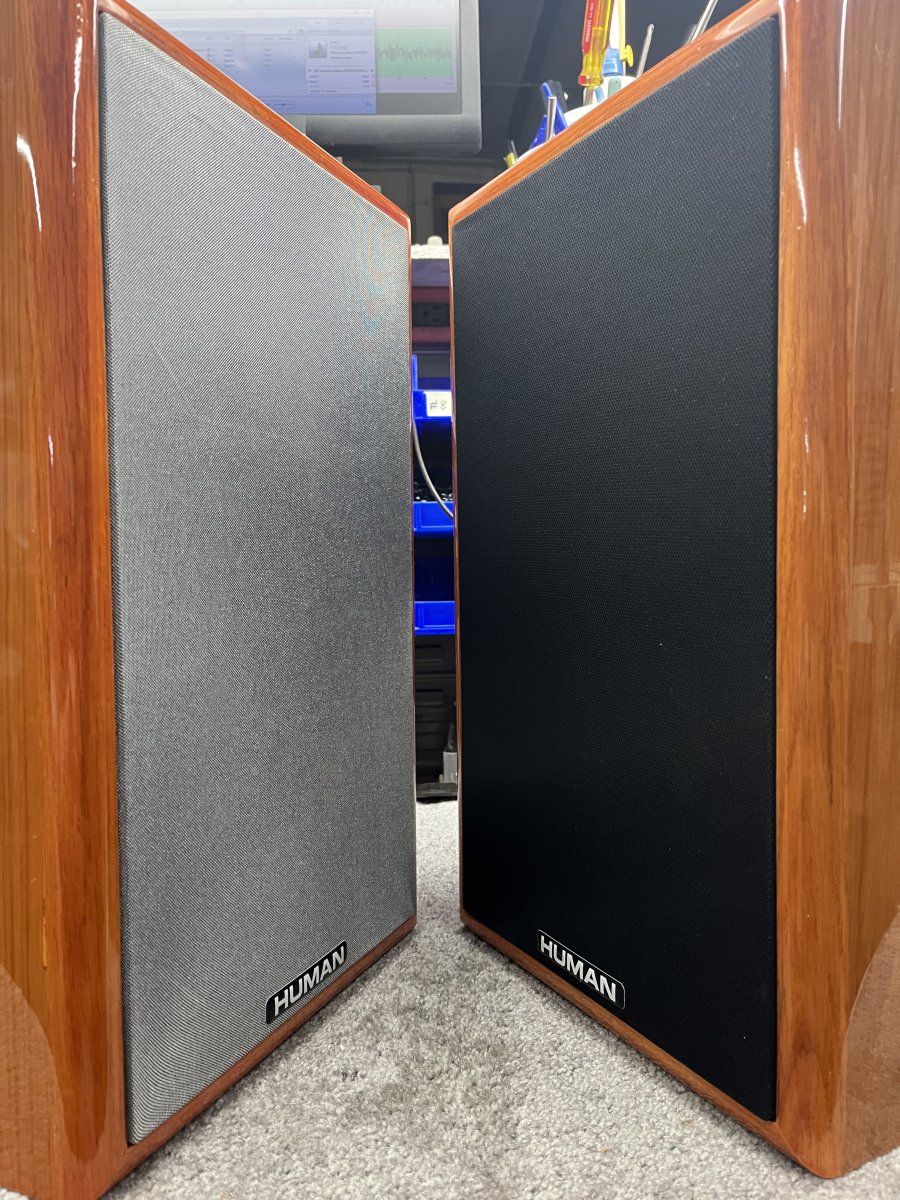 18½ H x 11½ W x 14½ D
29 pounds
175 watts
38 Hz to 26 kHz
(A lower cost version, the model 81, is available in a similar, but half as deep, vinyl-clad enclosure, using the same basic design and hand-made parts.)
High power handling will accomodate most amplifiers. The "power rating" is 175 watts, but who plays pink noise at full volume for hours on end? A 200w/channel into 8 ohms/400w into 4 ohms system will really shine with these hooked up to it.
Its efficiency will make the most of smaller amplifiers - at 89 dB for 1 watt at 1 meter, a 30 to 50 watt/channel system will be quite impressive in average sized rooms.
Wide frequency response enables faithful reproduction of any type of music (or video soundtrack). The system is +/- 2 dB from 38 Hz to 26 kHz, with a gentle roll off below and above those extremes.
Uniform power response approaches the ideal of reproducing all frequencies equally in all directions. The off-axis response is remarkably similar to the on-axis reproduction, with a gentle drop in the very highest frequencies at 90 degrees off-axis. This wide, linear dispersion ensures that reflected sounds have the same character as the direct sound, leading to a truly believeable listening experience.
The minimalist crossover design eliminates phase effects. Since all that is needed is a high quality capacitor to protect the tweeter from low frequency energy, the result is incredibly transparent.
Ultra low distortion so that even the most complex passages remain clear. Low distortion, which translates to linearity, is the key to subtlety and listenability - from a whisper to a scream, or both at the same time.
My speaker parts are rugged and purist. They are designed to complement each other's range and clarity. The woofer, in this cabinet, is flat from 38 Hz (-6 dB at 27 Hz, -12 dB at 18 Hz) to 1800 Hz, where the tweeter takes over (most tweeters couldn't handle a crossover this low) and finishes the job out to 26 kHz, beyond human hearing. A minimalist crossover design prevents stored energy from smearing the musical detail and provides excellent transient response.
This speaker is built to "high end" standards, with high quality binding posts, an audiophile grade crossover capacitor, 16 gauge internal wiring, and extensive internal bracing and damping.
It is available in a high-gloss oak veneer finish with a black grill. Ask nicely and I will use the silver-grey grills shown in some of these photos for yours. I have dark brown grills, too.

(Images are linked to larger versions)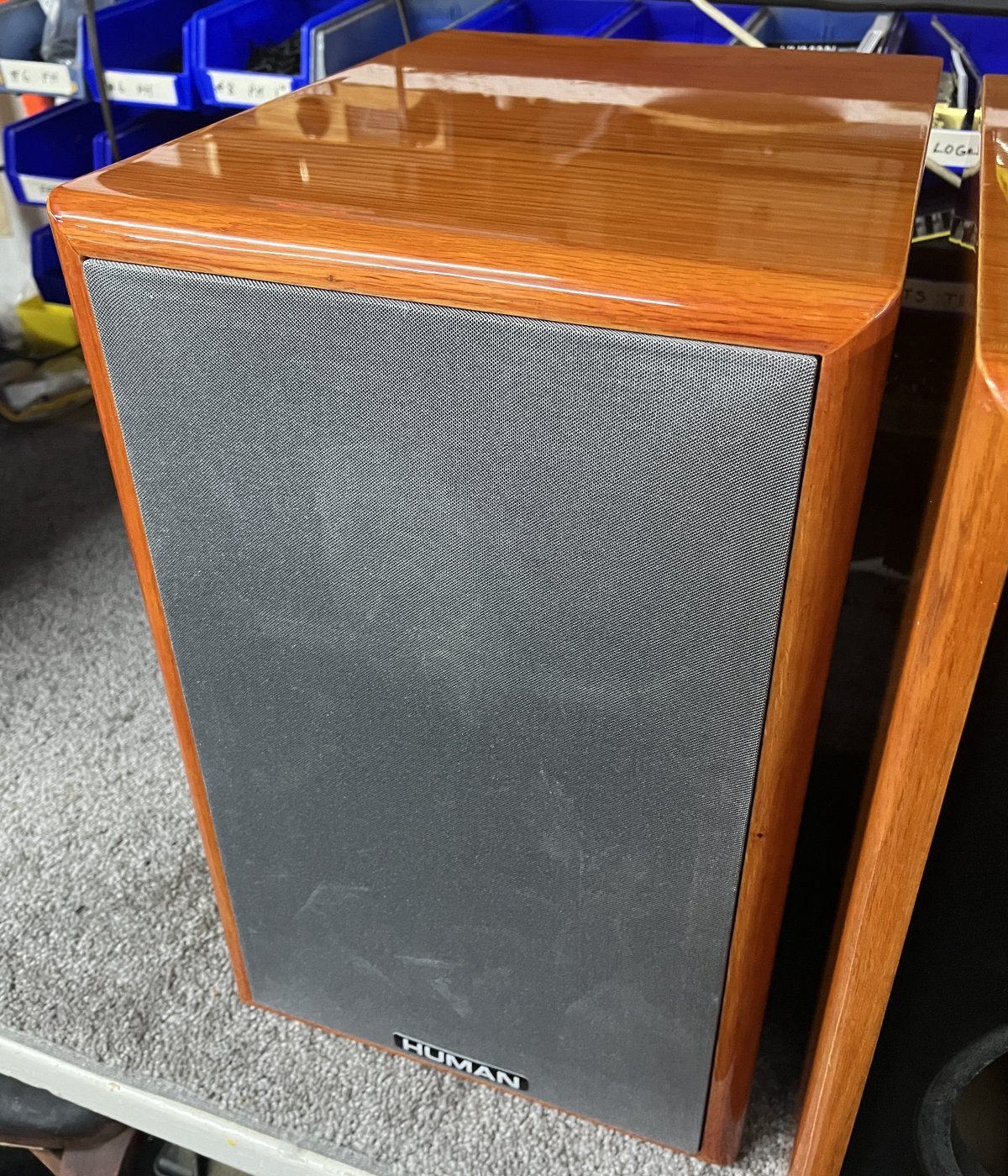 * * *
Top - Contact -
General Topics (Home)
New Speakers - Owner Support - DIY Projects
EPI and Epicure - Genesis Physics -
All Other Speaker Repairs

© Copyright - All Rights Reserved
7 Kelsey Road, Lee, New Hampshire 03861

Prices can change and specifications will improve without notice