Questions?
Call 603 659 5335 or email me
HUMAN Speakers is still building and shipping speakers
during this ongoing health concern More information.
Best viewed in "landscape" mode.
EPI & Epicure Speakers:
The EPI 200 (B,C,V)
specifications - crossover schematic - advert text - brochure photos - order parts
Here are an early 200 and a later 200C
that I completely rebuilt in 2015 and 2021, respectively: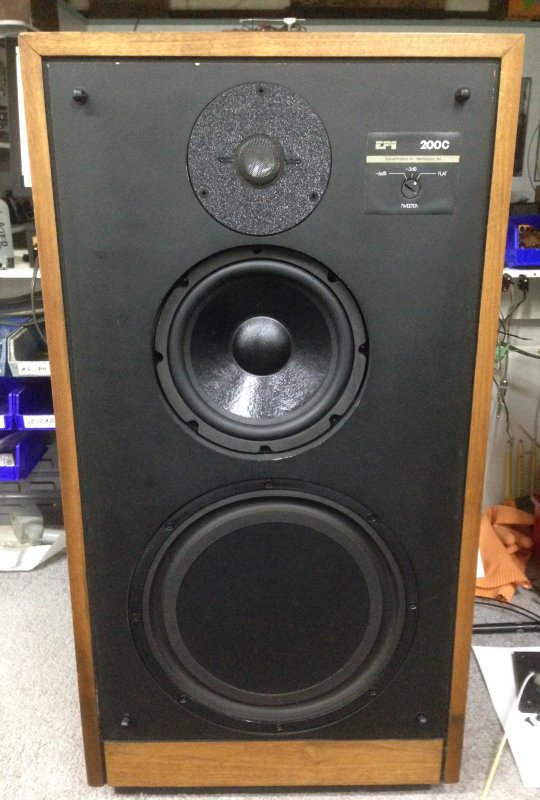 Specifications
photo/top - crossover schematic - advert text - brochure photos - order parts
Dimensions:
30 1/2" x 17" x 11"
Weight:
58 lbs
Response:
34 to 20,000 Hz
RMS Power:
15 to 125 watts
Crossover: 1800 Hz
ACC 004 A
$32.00 each
8" woofer
PRO 001
$69.00 each
1" air spring dome tweeter
PRO 002 ME1
$64.00 each
12" passive radiator
PRO 023
$57.00 each
Impedance:
8 ohms
MSRP:
450.00 - 600.00
Built:
1977 - 80 (200 B,C,V)
Crossover schematic
photo/top - specifications - advert text - brochure photos - order parts
Key to Crossover Symbols and Component Values (in a new window)

photo/top - specifications - crossover schematic - brochure photos - order parts

The following is copied from a vintage magazine advertisement:

AT LAST, EAST MEETS WEST
Traditionally, the audiophile has had to choose between the East Coast Sound and the West Coast Sound, each with its own particular advantages and disadvantages.
The East Coast Sound is extremely accurate. The dispersion characteristics of East Coast speakers are, as a rule, excellent. Unfortunately, they usually need a lot of power to perform.
West Coast speakers are noted for their efficiency and volume. Unfortunately, accuracy isn't one of their strong suits.
Introducing the EPI 200
After years of research and development, the engineers at EPI have created a speaker that combines the best qualities of East and West.
With its 12-inch passive radiator, the EPI 200 has all the efficiency of the most popular West Coast speakers. A 30-watt receiver powers it with ease.
With that power, the EPI 200 produces the king of sound EPI is famous for: Linear Sound. A pure, rich, accurate sound from 20,000 Hz all the way down to 34 Hz.
And dispersion? In a word, the Model 200's dispersion characteristics are superb. Up to 15,000 Hz, the speaker's off-axis dispersion is down an average of only 3 dB - a performance even other East Coast speaker makers can only dream about.
At $400, the EPI 200 would be an exceptional value. But at under $300, it is nothing short of phenomenal.
The EPI 200: The best of the East. The best of the West.
EPI is a product series of Epicure Products, Inc., Newburyport, Mass. 01950.
photo/top - specifications - crossover schematic - advert text - order parts
These are a couple of photos from an original brochure: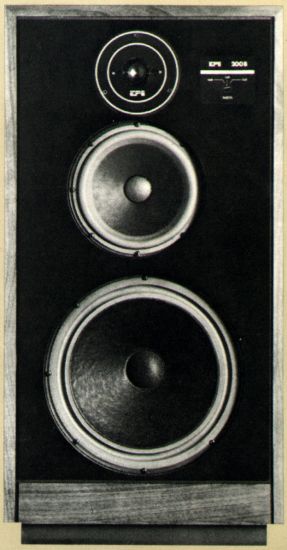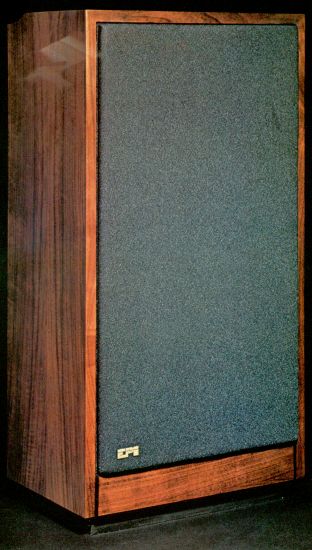 * * *
Top - Contact -
General Topics (Home)
New Speakers - Owner Support - DIY Projects
EPI and Epicure - Genesis Physics -
All Other Speaker Repairs
© Copyright - All Rights Reserved
7 Kelsey Road, Lee, New Hampshire 03861
Prices can change and specifications will improve without notice