Questions?
Call 603 659 5335 or email me
HUMAN Speakers is still building and shipping speaker parts
and complete speakers during this public health crisis.
I am well, and isolated, and I hope you and yours are too.
Please follow advised guidelines for handling packages upon arrival.
Best viewed in "landscape" mode.
EPI & Epicure Speakers:
The EPI M202
history - specifications - crossover schematic - brochure text - order parts
Here is a view from the "rear" and the "front."
There is a woofer and a tweeter behind each grill.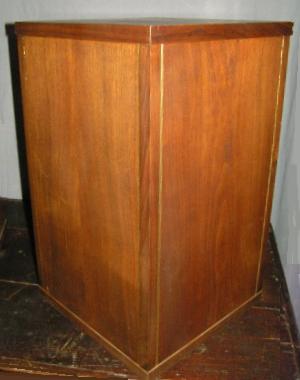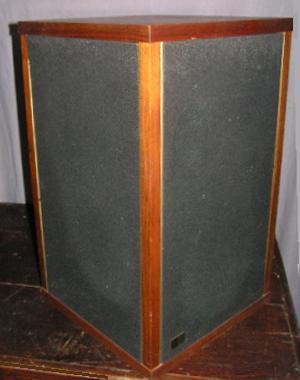 (Photographs courtesy of laurelleaffarm.com)
History
photo/top - specifications - crossover schematic - brochure text - order parts
The EPI 202, which is almost identical to its successor, the EPI 250, utilizes two eight inch two way modules on two sides. In many ways, it was the "poor man's" EPI 1000. Some people even used two pairs, stacked on top of each other to simulate the 1000's omnidirectional effect. In my experience, the 202 and 250 do a wonderful job of filling a room with high quality sound. I sold my pair of 202s, and have bought and cut a sheet of 1" MDF and sourced some local true 1" by 1" oak in order to build a replacement pair.
Specifications
photo/top - history - crossover schematic - brochure text - order parts
Dimensions:
25" x 15" x 15"
Weight:
40 lbs
Response:
35 to 18k Hz
RMS Power:
20 to 100 watts (very conservative rating)
Crossover: 1800 Hz
ACC 004 C
$42.00 each
Two 8" woofers
PRO 001
$69.00 each
Two 1" air spring dome tweeters
PRO 002
$61.00 each
Complete rebuild kit
K-202E
$619.00 / pair
Impedance:
4 or 16 ohms
MSRP:
480.00
Built:
1973 - 76
Crossover schematic
photo/top - history - specifications - brochure text - order parts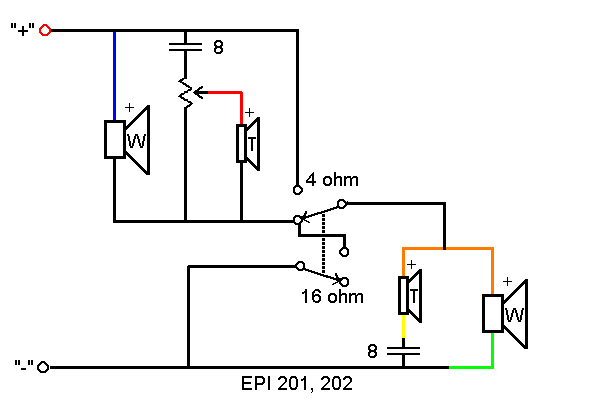 Key to Crossover Symbols and Component Values (in a new window)
Brochure text
photo/top - history - specifications - crossover schematic - order parts
The following is copied from the "Brown Booklet":
The Model 202 was designed to satisfy the aesthetic tastes of EPI's customers who wanted the advantages of the Bi-Module concepts but were unable to accept the radical approach to cabinet design used in The Quartet [the Model 201]. The 202 uses exactly the same components as The Quartet, but because the woofers are mounted lower to the floor, it produces slightly heavier bass. This has two advantages:
If you position the speaker in a corner location, the low frequency response will be phenomenal, as both modules take advantage of the three sided location to produce sound pressure levels that make the speakers seem many times their size. For people who like window-rattling bass, this is an excellent consideration.
However, move the 202 out of the corner and the bass response lessens to provide the uniform tonal balance characteristic of all EPI Loudspeakers. Now you have a speaker that will sound perfectly balanced in acoustical positions that are usually unacceptable, for example: in the centre [sic] of a large room [or] on either side of a sofa.
* * *
Top - Contact -
General Topics (Home)
New Speakers - Owner Support - DIY Projects
EPI and Epicure - Genesis Physics -
All Other Speaker Repairs
© Copyright - All Rights Reserved
7 Kelsey Road, Lee, New Hampshire 03861
Like HUMAN Speakers on FaceBook:
Prices can change and specifications will improve without notice