Questions?
Call 603 659 5335 or email me
The long-awaited HUMAN 81 DK is now available.
Best viewed in "landscape" mode.
HUMAN K-202E Speaker Kit
$673.00 / pair
The EPI 202 and EPI 250 speakers are an interesting application of the eight inch two-"module" speaker. In a sense it is a more user-friendly version of the massive EPI 1000 tower. By using an eight inch woofer and 1" concave dome tweeter on two adjacent sides of each box, it gains tremendously in dispersion and ease of placement. The "active" faces can be set up to fire forward and inward, forward and outward, at 45 degrees forward... or any combination you find works well with your listening room.
In order to increase power handling and bass response, many companies will design complex systems that often fail to deliver the qualities they obtain with their basic models. The 202 is a different approach. By using two identical sets of drivers, power handling is doubled, dispersion is improved, and yet the sound quality of the elegant simple eight inch two way is retained. You can also take advantage of this woofer's bass response potential by increasing the per-woofer volume, from just over 1 to as much as 2.5 cubic feet (I would).
The EPI 201 and Epicure 20+ also use the same double module set of parts, but are built with one pair of drivers on the front and one on an angled top panel. The EPI 180 puts all four drivers on the front of the cabinet. The EPI 201A is yet another, fairly rare, take on the concept.
The K-202E is a complete kit for rebuilding the models mentioned above. The tweeter is built on a 5" diameter faceplate (the PRO 002 ME1), and the input terminal/crossover/wiring assembly is built on a board that is screwed inside the rectangular opening in the original cabinet (the ACC 004 C). It also features the updated replacement woofer, the PRO 001, and if your old grills were nailed or glued on, for $3.00 per speaker I'll include some Velcro to reinstall them.
If you are rebuilding a pair of the Epicure 20 or 20+ speakers, the kit price includes the set of parts to rebuild your metal terminal cups with all new parts, the ACC 004 HD. That set of parts requires a little soldering and glueing to install. If you want to just send me your terminal cup to rebuild here, the cost is about $40 more, for the ACC 004 H.
The HUMAN K-202E Kit includes:
4 PRO 001 woofers
4 PRO 002 ME1 tweeters
2 ACC 004 C binding post/backplate/crossover/wiring assemblies (or the ACC 004 HD parts kit)
Screws to install all parts
Velcro for grill mounting (if specified on order form)
Basic instruction sheet (and telephone/email support)
Here are all the parts you will receive (the Velcro is only if you mark it on the order form):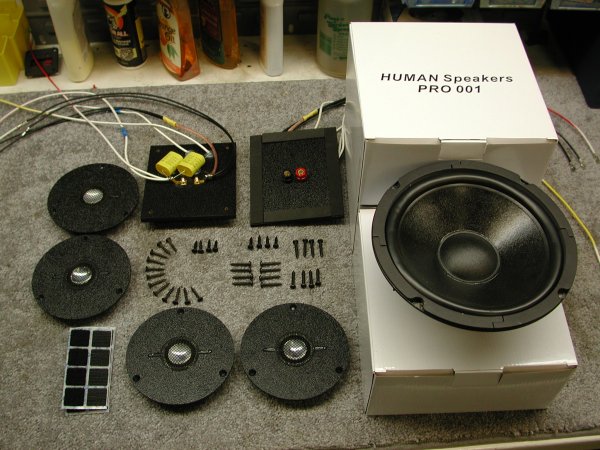 * * *
Top - Contact -
General Topics (Home)
New Speakers - Owner Support - DIY Projects
EPI and Epicure - Genesis Physics -
All Other Speaker Repairs
© Copyright - All Rights Reserved
7 Kelsey Road, Lee, New Hampshire 03861
Prices can change and specifications will improve without notice