Your browser cannot display the automatic menus - they are shown expanded.
Questions? Call (603) 659-5335 or email me
EPI & Epicure Speakers:
A timeless classic: the EPI 100
also known as M100, 100V, or 100W
(build a pair yourself using HUMAN parts!)

specifications - crossover schematic - order parts
Right: The first version
photo source: old EPI promo sheet

Below: A pair of the second version
photo source: Al Erkanli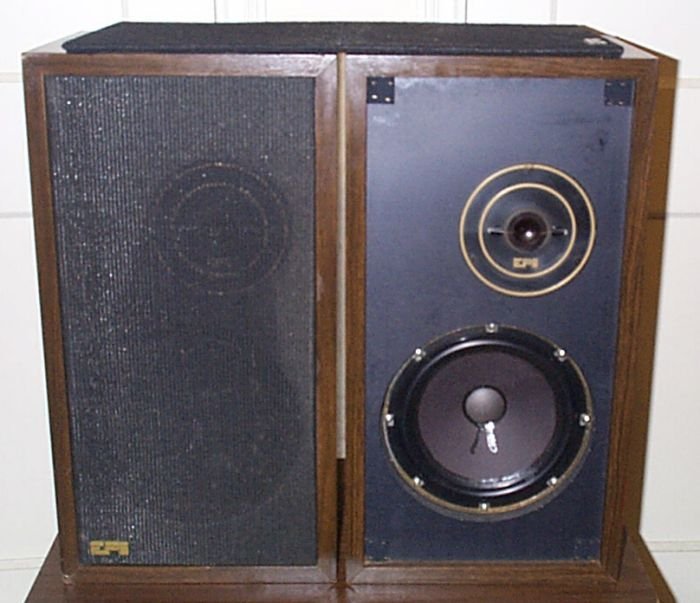 The EPI 100 loudspeaker is a timeless classic indeed. Originally designed in the late 1960s by Winslow Burhoe, it was his first "module" speaker. The module concept was a woofer and tweeter that had the same efficiency, and a frequency reponse that matched each other. The woofer was designed to roll off on its own at 1800 Hz. The tweeter was designed to do the same thing. The only need for a "crossover" was something to protect the tweeter from bass frequencies, hence the incredibly simple use of a ten microfarad capacitor to do the job.
This model stayed in production into the 1980s, and for several years was highly recommended by Consumer Reports.
There were three distinct generations - the first featured a tweeter built on a 5 inch round Masonite faceplate, with a paper concave dome. This version's woofers also usually had butyl rubber surrounds, which are often still working forty years later. The grills were glued and nailed on, and sported the brass badge with the round, stylised "EPI" logo.
The next generation upgraded the tweeters to a phenolic dome, and incorporated Ferrofluid cooling and damping. These were built on a five inch round black plastic faceplate with two gold rings and the EPI logo. The woofers changed over to foam surrounds, and the grills were held on with Velcro. The logo changed to a gold plastic bold face "EPI" with a horizontal line crossing all three letters featuring a stylised sine wave in the middle of the P.
Finally, in the early 1980s, the whole model line got a facelift, and all but the 100 acquired an "A" prefix to their model numbers. The tweeter was slightly smaller in diameter, at about 4 3/8 inches, with a red ring visible around the dome and the EPI logo molded into it. The grills were attached with plastic pegs and rubber sockets. For some reason I gave this version its own page even though technically it was never called the A100.

photo/top - specifications - crossover schematic - order parts
Dimensions:
21" x 11" x 9"
Weight:
25 lbs
Response:
45 to 18k Hz
RMS Power:
12 to 50 watts (very conservative rating)
Crossover:
1800 Hz
ACC 004 A
Driver complement:
8" woofer
1" air spring dome tweeter
PRO 001
PRO 002
Impedance:
4 ohms DC, 8 ohms nominal
MSRP:
198.00 - 240.00 (vinyl)
240.00 (walnut)
Built:
1967 (?) - 79

photo/top - specifications - crossover schematic - order parts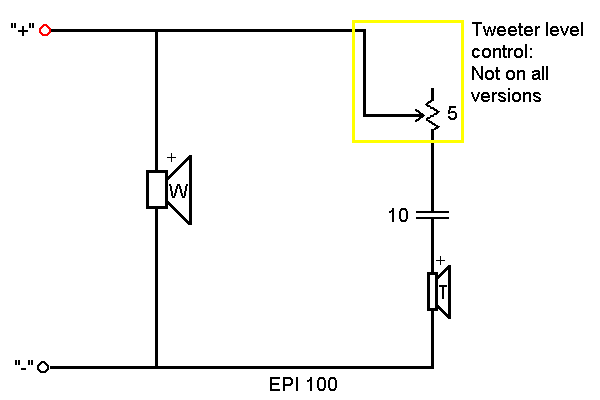 Often seen wired as: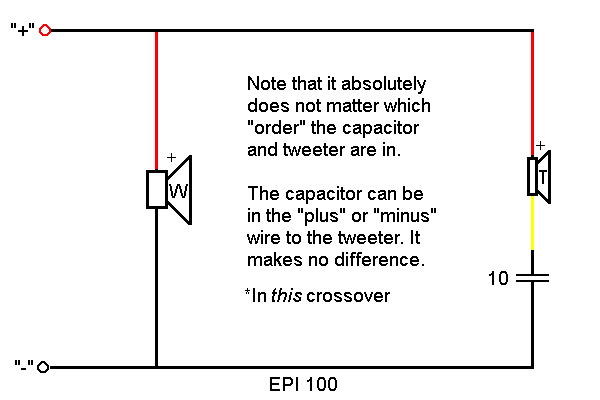 Key to Crossover Symbols and Component Values (in a new window)
* * *
Top - HUMAN - Owners - DIY - EPI - Genesis - Others - Home - Contact
Like HUMAN Speakers on FaceBook: