Your browser cannot display the automatic menus - they are shown expanded.
Questions? Call (603) 659-5335 or email me
The HUMAN 81+ in natural or black lacquered oak is in stock and ready to ship!
My Gear
FAQ: So what sort of equipment do you have at home, Huw?
A: I gotta whole buncha junk...
I have what most people would call "several" systems, capable of generating their own content and sound. However, they are all tied in together in various ways so I can listen to whatever I want, and control most of the functions, anywhere in my building. I have a multitude of IR remote repeaters and "basic" universal remotes for the Sony gear which allow pretty good flexibility and control.
---
I'll start off in the living room, since there are more wires there than anywhere else.
A Sony STR DA5ES surround receiver is at the heart of the system. Its speaker outputs, however, are sent to the speakers in the bathroom and dining room. I use its five preamplifier outputs to feed the living room amplifiers.
Three bridged Adcom GFA 555 power amplifiers are in front, driving a pair of rebuilt EPI 1000's and a "homemade" HUMAN C3.
Another GFA 555 power amplifier is in the rear, with a pair of "homemade" HUMAN 88-41's I built as a random refurbishing project.
These source components are in the built in cabinet with the Sony receiver:
Thorens TD 160 turntable, stock tonearm, Ortofon VMS 20E Mk II cartridge
Sony CA70ES 5 disc CD player
Sony SLV-D350P VCR/DVD player
My trustworthy old Onkyo TA 2060 three head cassette deck
Sanyo PLUS D45 cassette deck with the tape cover drilled for easy azimuth adjustment when dubbing
Since the Sony is a little shy on old-school audio tape capabilities, the cassette decks are connected through a Radio Shack 3-deck switching box, which also serves to bring in a couple of other inputs and send out some line level signals.
In case it mattered, on a homemade stand along with my center channel and the front amplifiers, there's a Magnavox 36" television. It's one of those 19th century style things with a big glass vacuum tube housing magnetically guided beams of electrons, which create the picture by striking phosphors inside the front surface. Dr. Frankenstein would have been proud!
---
I have a little sixteen channel home studio set up in the back of the living room, where I amuse myself by recording songs I wrote. I have two "blackface" Alesis ADAT eight track digital tape recorders, controlled by the Alesis Big Remote Control. A few hundred (or so it seems) wires end up connected to an Alesis Studio 32 mixer where the meters bounce in a pretty fashion. The mixer output is fed to a SUNN SPL 7000 amplifier, which, through a three-speaker switchbox I built, lets me monitor my mixdowns using a pair of EPI 201's, a pair of EPI 60's or a pair of tiny home-theater-in-a-box type cube things, as necessary. There is also a mixer output sent to the main system tape switching box.
There is a Sony RCD-W7V CD recorder, which was destined for the living room to dub old cassette anthologies to CD. It ended up installed in the studio, where I use it as a mixdown recorder.
While this drifts off topic a bit, I have several guitars and stuff like that, too:
1962 Harmony hollow body for those faux-George Harrison moments
1967 Fender Telecaster
1970's Fender "fat boy" Stratocaster (Japanese)
mid 1990's ("new") Ibanez 6 string acoustic
Ovation "plastic backed" 12 string
Hohner L90 Les Paul copy with Gibson pickups
A couple of electric bass guitars
A "borrowed" Fender Rhodes electric piano
A (silverface) Fender Princeton Reverb combo amp
A (silverface) Fender Vibro Lux Reverb combo amp
And I keep a TEAC 3340S quarter track tape machine around, mostly to access a few old demos I recorded once upon a time.
---
The speakers in the dining room, where I watch the Daily Show, are EPI 250's and a HUMAN C2 under my 25 year old GTE Sylvania Superset 19" television.
---
In the bathroom, another prime listening and viewing location, are three HUMAN QT-1's (left/center/right) and a pawn shop 19" television.
---
In the main Factory space there is an Adcom GFP-555 preamplifier, fed by an Adcom GCD-600 CD changer and a Strathclyde Transcription Developments 305M turntable with an Audioquest M1 cartridge in a Signet XK50 tone arm. There is also a tape monitor output from the living room coming into this system. Amplification is handled by yet another Adcom GFA-555 amplifier. I built a switchbox for up to ten sets of speakers out of an old PS Audio 100C case, since their old amplifiers aren't good for anything else.
I keep my Nitty Gritty record cleaner out here, where it can impress the easily impressed.
For demonstrations, these play through whatever needs to be heard, but for "music while I work" I have 8 speakers bolted to the Factory ceiling. They consist of old Small Advent cabinets, rebuilt EPI 120 woofers and Genesis I tweeters. There are four "lefts" and four "rights," wired in parallel/series. The way they are spaced, the two nearest speakers always work out to being a left and right. They are painted white, just because.
---
There is a very decrepit, but fully functional, pair of Genesis 11's bolted to the Devil's Workshop/Werehouse wall, hooked up to the Factory system.
---
In my office, the computer plays my TablEdit (this is a great program, by the way) files, choice bits of liberal talk "radio," and random youtube files through an old 35 w/ch Sansui 210 receiver and another pair of EPI 60's. The tape output of this receiver also winds its way through the tape switching box in the living room to an input of the Sony receiver. It runs through a car stereo "ground loop isolator" to eliminate a little hum I was getting.
I'm too mellow, and enjoy music too much, to be an audiophile - but I do have an accumulated assortment of moderately pricey interconnects and speaker wires, some from Audioquest and Straight Wire, and others unidentifiable. I'm not sure how much of a difference they make, but since I have them, I use the fanciest ones in the most critical places in my systems.
---
Here is an attempt at a schematic illustration of all the above equipment: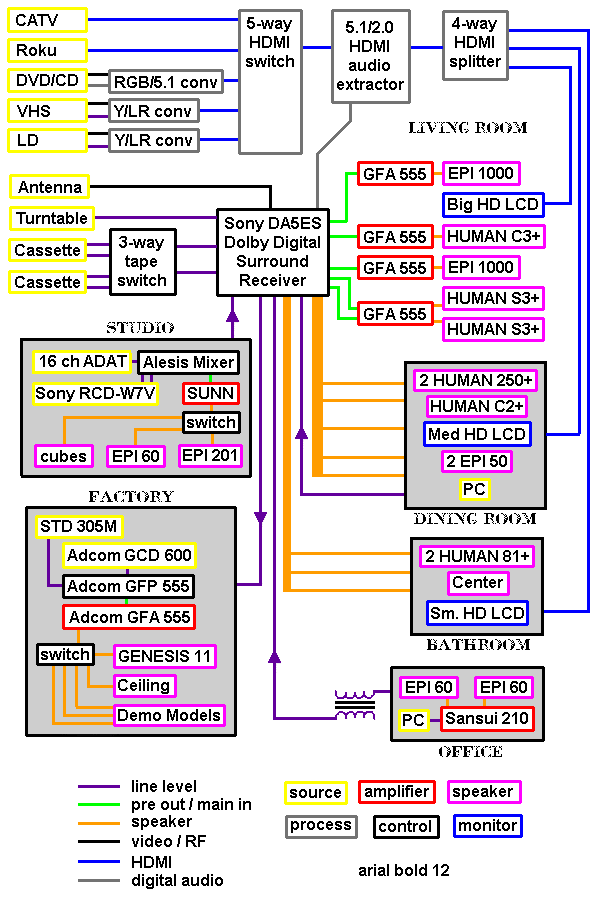 ---
I also have vehicles that I drive, and as you can imagine, I listen to music in them too.
This is what's in my 1982 Audi Coupe:
Kenwood 959 something cassette radio
Vecteur hard wired interconnects
Two Yamaha YPA 1000 amps
Four PRO 007 and four PRO 002 B, set up as a pair of HUMAN A-61's in the front and mounted raw in a baffle board along with two 12" woofers in the rear.
Two 4" PRO 054 midranges to fill the stock dash speaker locations, padded down so as not to mess up the imaging.
---
In June 2003 I put this stuff in my 1989 Audi 90 Quattro:
Nakamichi CD 400 CD/radio head unit
Sony XM-475GSX "Xplooood" four channel amplifier
Two PRO 007 woofers and two PRO 002 M tweeters in the doors.
Two PRO 005 woofers and two PRO 002 M tweeters in the rear deck.
And a whole bunch of wire.
---
In December 2006 I outfitted my 1978 Chevy K20 with tunage:
The Pioneer CD player with built in amplifiers that came with the Audi 90
A pair of slightly custom HUMAN A-61 speakers in the doors
A custom imitation, sort of, of a pair of EPI Magnus 10 speakers in one box behind the seat
An aftermarket antenna in the left front fender
And, of course, a bunch of wire
* * *
Top - HUMAN - Owners - DIY - EPI - Genesis - Others - Home - Contact
Like HUMAN Speakers on FaceBook:

Prices can change and specifications will improve without notice