Questions?
Call 603 659 5335 or email me
HUMAN Speakers is still building and shipping speakers
during this public health crisis More information.
Best viewed in "landscape" mode.
A Refurbishing Project, Illustrated
Back to the DIY Gallery
Back to the K-C3 page
Here is a refurbishing project I did, using a pair of solid but rather decrepit boxes from the dump. Although I overdid the system a bit, duplicating the HUMAN 88-41 in these two cubic foot boxes, the basic concept is fairly well illustrated.
I removed the old front panels, which were resting on some very convenient rails. Here you see one of the boxes, gutted, measured, and ready to start building up into my new speakers.
You will also note the obligatory safety equipment, that you should always wear when working with tools, especially power tools:
Eye protection - so you can admire your project when you are finished!
Ear protection - so you can still enjoy how wonderful they sound!
(return to refurbishing projects)
I cut double sets of front panels, to use up the entire 1.5" available in the front. Holes for the drivers were cut into all four, while carefully keeping track of which ones went together and what side was the front and rear of each board. The tweeters only required holes for the wires in the inside panels, since the tweeter magnet is enclosed completely in the front 3/4" sheet.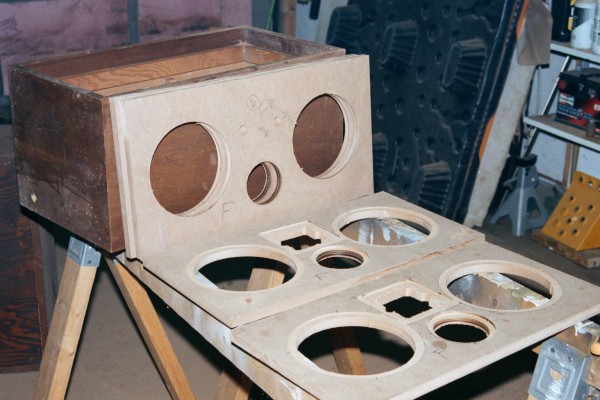 (return to top - return to refurbishing projects)
I painted the front of the outer panels black and put them aside to dry. Next I installed new terminal boards (made of 1/4" masonite, with 5 way binding posts mounted in them), the crossovers, and measured, cut and test-fitted the brace you see here for the center of the box.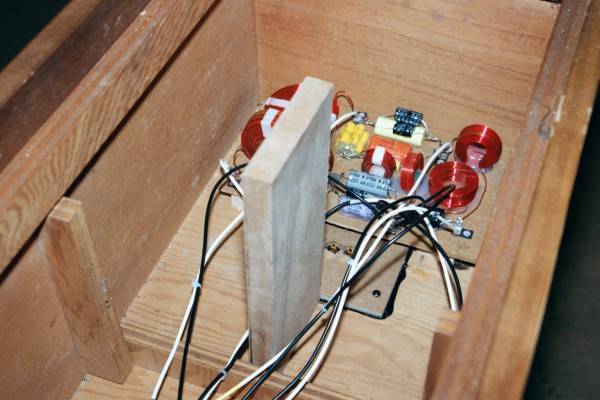 (return to top - return to refurbishing projects)
I lined the sides with lead (which is glued and stapled in place), and glued and screwed the center brace and inner front panel in place.
(See lead warning and handling information)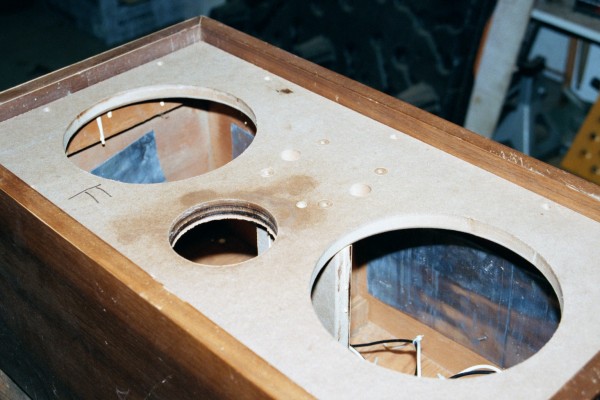 (return to top - return to refurbishing projects)
The final step of cabinet work was to add the outer front panel, which is held in by plenty of carpenters glue and every clamp I could get in through the driver holes.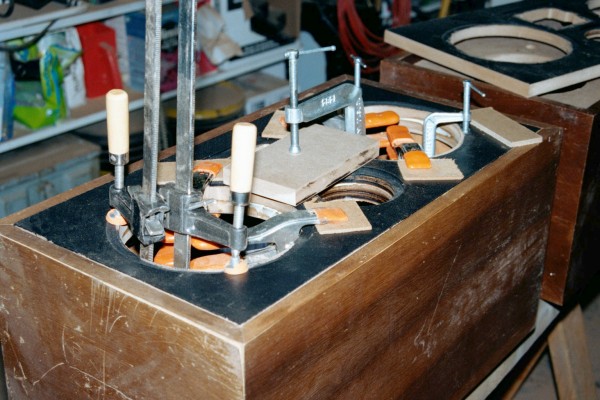 (return to refurbishing projects)
All that remains to do here is:
Pull the crossover wires through the appropriate holes
Fill the cabinet with damping material of your choice
Attach the wires to the drivers and screw the drivers in
Testing, listening, and enjoyment!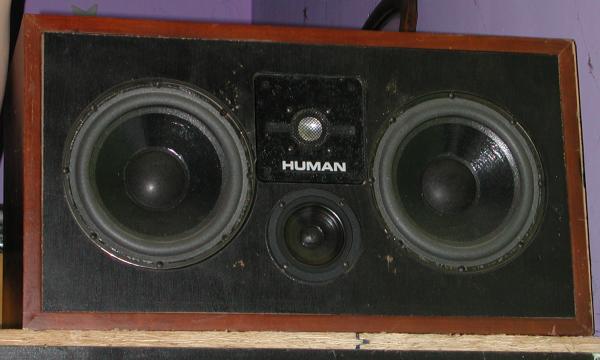 OK, maybe they'd look better with grills. Maybe not. Here is one serving as a rear speaker, up in the loft at one end of my living room. Weird perspective on this shot.
* * *
Top - Contact -
General Topics (Home)
New Speakers - Owner Support - DIY Projects
EPI and Epicure - Genesis Physics -
All Other Speaker Repairs
© Copyright - All Rights Reserved
7 Kelsey Road, Lee, New Hampshire 03861
Prices can change and specifications will improve without notice