Questions?
Call 603 659 5335 or email me
The long-awaited HUMAN 81 DK is now available.
Best viewed in "landscape" mode.
HUMAN K-C3 Speaker Kit
$472.00 / each
(to DIY kit/legacy projects)
(photos and story of one I built)
and how I later turned it into a C3+
If you're going to use a center channel speaker in a high powered Home Theater system, it should be a very good one, and complement the quality of your main speakers as well.
The HUMAN C3 is just such a speaker. Using two of my hand built woofers, a carefully selected midrange, and one aluminum concave dome tweeter, it has great power handling, frequency response, and clarity.
The crossover used in the HUMAN C3 is designed to roll off each driver with a fourth-order slope, preserving phase at each transition. High quality film-type capacitors are used everywhere in the signal path, as are air-core choke coils. The coils are arranged at mutual ninety degree angles to each other to prevent inductive interference between the signals passing through them. The parts are mounted on two separate boards, one for the woofer crossover and one for the midrange and tweeter, with their own input wires to facilitate biwiring or biamping.
Details:
Interior dimensions in inches, volume in cubic feet:
| | | | | |
| --- | --- | --- | --- | --- |
| model | width | height | depth | volume |
| HUMAN C3 | 36 | 10.5 | 24 | 3.8 cu ft |
| HUMAN C3+ | 24 | 36 | 10.5 | 3.8 cu ft |
Stock bracing: I like to use several braces scattered irregularly about the cabinet, bridging the two largest faces. Two of them go against the front panel between the midrange and tweeter and each of the woofers. This increases rigidity tremendously, and virtually eliminates panel resonances.
Driver position: The midrange and tweeter are centered vertically and placed one above the other in the front panel, with the woofers centered vertically on each side of them, about an inch away.
The HUMAN C3 Kit includes:
2 PRO 006 woofers
1 PRO 054 midrange
1 PRO 002 M2 tweeter
1 Terminal cup with gold plated 5-way binding posts
1 Complete wiring harness/crossovers
Screws to install all parts
Pegs and sockets for grill mounting
Basic instruction sheet (and telephone/email support)
You provide:
The cabinet
The grill, if desired
Internal damping material (e.g. fiberglass, polyester, etc.)
Here is a photo of the drivers, from when I built one for myself: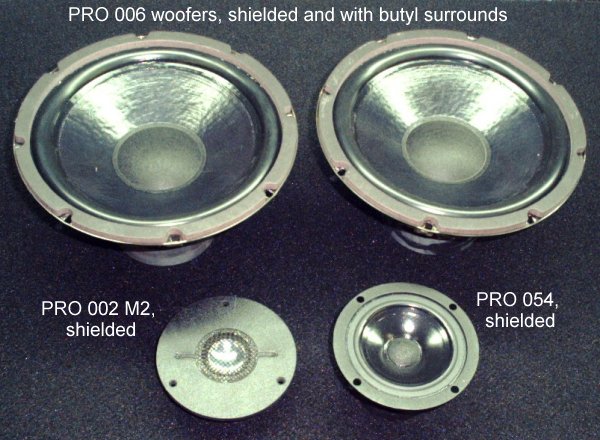 And here is how I later turned it into a C3+.
* * *
Top - Contact -
General Topics (Home)
New Speakers - Owner Support - DIY Projects
EPI and Epicure - Genesis Physics -
All Other Speaker Repairs
© Copyright - All Rights Reserved
7 Kelsey Road, Lee, New Hampshire 03861
Prices can change and specifications will improve without notice