Questions?
Call 603 659 5335 or email me
The long-awaited HUMAN 81 DK is now available.
Best viewed in "landscape" mode.
About the PRO 002 ME tweeters
I have developed all-new replacement tweeters for some EPI/Epicure models. This is because some of the original tweeters are nearly impossible to rebuild or replace. Also, in some cases, people no longer have their original tweeters that could have been rebuilt. Here I will present an overview of these products.
In design these are all grandchildren of the classic "airspring" concave dome tweeter invented at Epicure Products. They have an optimized magnet structure for the power they are expected to disperse and the air they are intended to move. The aluminum dome is light and stiff, making for a smooth frequency response from below 1800 Hz to well over 20 kHz. The electrical reactance is completely compatible with the original crossover networks in the speakers they are built for.
Part #
Size/shape
Replaces
Where used
PRO 002 ME1
5" round
1205
1224
1257

2555

Masonite and gold ring
"airspring" tweeters
from 70's models

Some Time/Energy speakers

PRO 002 ME2
4 3/4" by 3 1/4"
69828
Epicure 1, 2, 3, 4, 5
PRO 002 ME3
Top-mount
1207 (?)
Epicure 3.0
PRO 002 ME4
4 3/8" round
1019
0940
"A" series speakers
Some Time/Energy speakers
PRO 002 ME5
3 5/8" by 3 3/8"
2565 (?)
Time/Energy Series 2 speakers
There are photographs of the originals and the replacements at the files describing them individually. Here is a nice shot I took of the ME3, ME1, and ME2: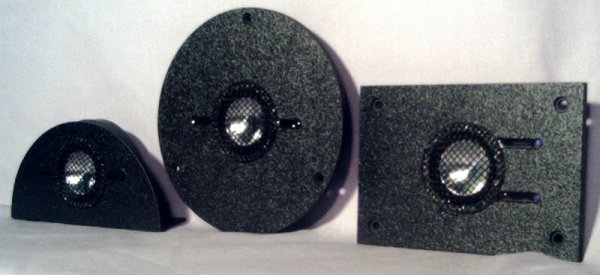 * * *
Top - Contact -
General Topics (Home)
New Speakers - Owner Support - DIY Projects
EPI and Epicure - Genesis Physics -
All Other Speaker Repairs
© Copyright - All Rights Reserved
7 Kelsey Road, Lee, New Hampshire 03861
Prices can change and specifications will improve without notice