Questions?
Call 603 659 5335 or email me
The long-awaited HUMAN 81 DK is now available.
Best viewed in "landscape" mode.
Replacement part number PRO 002 ME5
$69.00 each
Here is the original EPI part: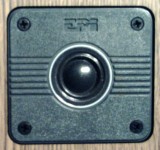 And the new replacement for it:
(Warning: photo is linked to a very large copy)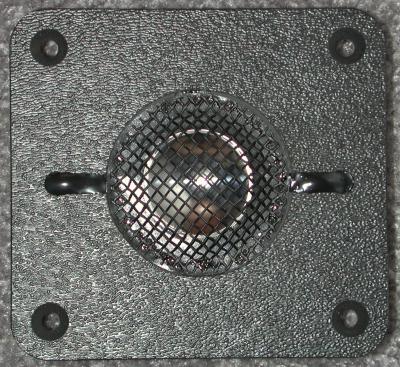 This tweeter is the replacement for one used in most of the Time/Energy Series 2 speakers. The original is a 3 3/8" by 3 5/8" grey plastic unit with "EPI" embossed in the front. They are no longer possible to rebuild, so I have developed a drop-in, plug and play replacement using my aluminum concave dome tweeter.
The sticker on the back of the original, if it has one, probably says "2665."
The PRO 002 ME5 is also an upgrade for these speakers - the aluminum concave dome sounds better than the original plastic domes. Using my replacement will bring them closer to the original EPI heritage on which they are based. The nice part is that not only will they drop right in, but they will play perfectly with the original crossover.
Since these are brand new replacement tweeters, there is no need to return your original ones.
(To return to the speaker you were looking at, just use your "back" button.)
* * *
Top - Contact -
General Topics (Home)
New Speakers - Owner Support - DIY Projects
EPI and Epicure - Genesis Physics -
All Other Speaker Repairs
© Copyright - All Rights Reserved
7 Kelsey Road, Lee, New Hampshire 03861
Prices can change and specifications will improve without notice