Questions?
Call 603 659 5335 or email me
The long-awaited HUMAN 81 DK is now available.
Best viewed in "landscape" mode.
EPI & Epicure Speakers:
The Epicure 1000
(build a pair yourself using HUMAN parts!)
This speaker, which is exactly the same as the
EPI 1000
, with the exception of the logos and the appearance of the drivers, deserves some more comment.
It is an incredibly simple solution to the problem of increasing power handling and bass response without losing all the careful design efforts invested in a high quality bookshelf speaker (the EPI 100/Epicure 10).
By using the smaller system's parts on every side of a square column, power handling is boosted by a factor of four - or, at any given power level, each driver is working 1/4 as hard and is vastly less prone to distortion. By carefully selecting the woofers used, the much larger "per-woofer" volume of the box takes advantage of this drivers ability to respond to very low frequencies when used with the right amount of air behind it.
The crossover can still be the minimalist single capacitor used in the smaller "module" speakers, since every bit of the engineering that made this work beautifully is still present.
The power rating given below of 60 to 250 watts is a bit conservative. These speakers sound great when played quietly, only consuming a few watts per channel, and will easily handle 500 watts each. I would say that 650-700 watts rms would be fine.
Given the impressive stature of this system, and the fact that I build woofers and tweeters that are exactly the same (except my parts are better than the originals!), it only makes sense to encourage people to build this system for themselves. The box is fairly simple, and can have whatever cosmetic effect you desire if you build it yourself. The resulting sound is phenomenal.
I should know, I have a pair of EPI 1000's in my living room... and if I ever sell them, I will build some more to replace them.
Specifications
photo/top - crossover schematic - order parts
Dimensions:
75" x 18" x 18"
Weight:
180 lbs
Response:
22 to 18k Hz
RMS Power:
60 to 250 watts (very conservative rating)
Crossover: 1800 Hz
ACC 004 G
$242.00 each
Four 8" woofers
PRO 001
$76.00 each
Four 1" air spring dome tweeters
PRO 002 ME1
$69.00 each
Complete rebuild kit
K-1000E
$1272.00 / pair
Impedance:
8 ohms
MSRP:
2,000.00
Built:
1976 - 78
Crossover schematic
photo/top - specifications - order parts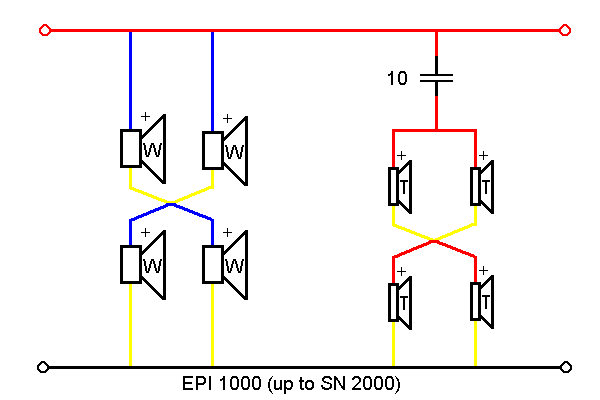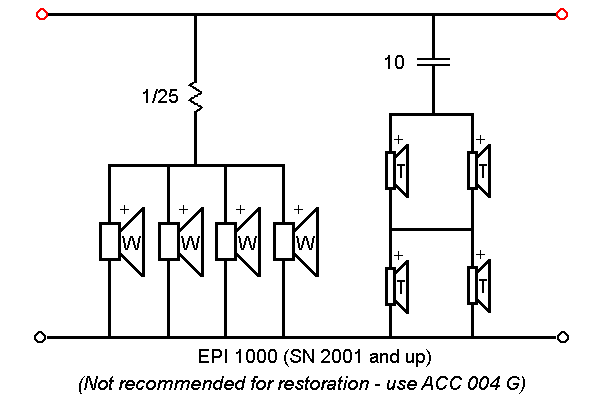 Key to Crossover Symbols and Component Values (in a new window)
* * *
Top - Contact -
General Topics (Home)
New Speakers - Owner Support - DIY Projects
EPI and Epicure - Genesis Physics -
All Other Speaker Repairs
© Copyright - All Rights Reserved
7 Kelsey Road, Lee, New Hampshire 03861
Prices can change and specifications will improve without notice