Questions?
Call 603 659 5335 or email me
The long-awaited HUMAN 81 DK is now available.
Best viewed in "landscape" mode.
EPI & Epicure Speakers:
The EPI M400
(build a pair yourself using HUMAN parts!)
specifications - crossover schematic - brochure text - order parts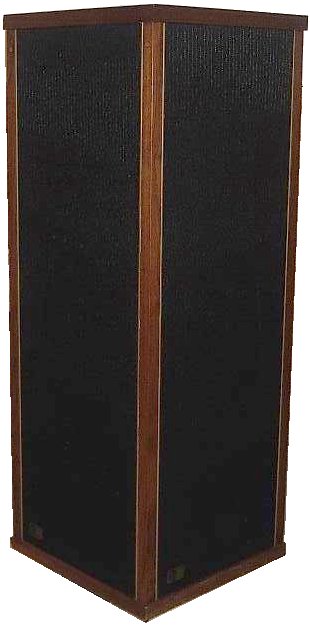 (photo courtesy Bill Niemiec)
The EPI 400 is the smaller brother to the EPI 1000 - a square tower featuring a six inch two way module on all four sides. Power handling is tremendous, and at normal listening levels distortion is radically reduced.
Specifications
photo/top - crossover schematic - brochure text - order parts
Dimensions:
38" x 14" x 14"
Weight:
90 lbs
Response:
28 to 18k Hz
RMS Power:
30 to 200 watts (conservative rating)
Crossover: 1800 Hz
ACC 004 F
$218.00 each
Four 6" woofers
PRO 007
$71.00 each
Four 1" air spring dome tweeters
PRO 002 ME1
$69.00 each
Complete rebuild kit
K-400E
$1272.00 / pair
Impedance:
8 ohms
MSRP:
800.00
Built:
1973
Crossover schematic
photo/top - specifications - brochure text - order parts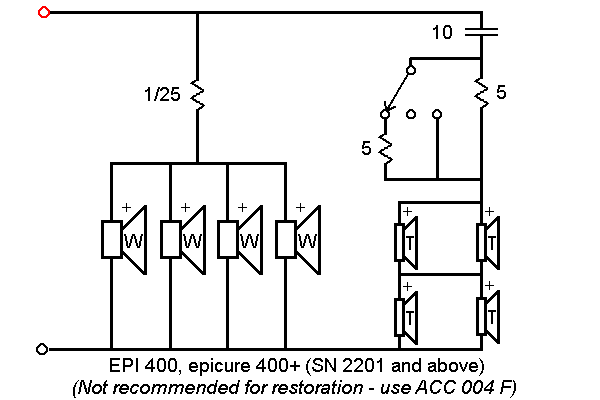 Key to Crossover Symbols and Component Values (in a new window)
Brochure text
photo/top - specifications - crossover schematic - order parts
The following is copied from the "Brown Booklet", which refers to the speaker throughout the text as "the Minitower":
The Minitower follows the consistent development of the well established design principles of the full-size Tower [the Model 1000].
Use of four 6" modules, mounted equally on all four sides, allows for a reduction in size and permits the production of a spherical sound source, which is perhaps one of our most strikingly beautful designs. Physically, it is a slim column, measuring 14" on a side and 38" high. Its pedestal-like appearance is a refreshing departure from the conventional; black grill cloth is framed by four corner posts of rich solid walnut, each accented by brass extrusions.
In addition to possessing all of the characteristics of excellence in a loudspeaker, the Minitower contains the unique property of true omnidirectionality. This means that sound spreads equally in all directions at all frequencies. It is no longer necessary to consider one's relationship to a speaker as that of a target. The Minitower fills a room with a dynamic reverberent field of sound, the realism of which is equalled only by the original performance. The stereo image is clear and distinct no matter how speaker or listener positions are arranged, provided only that there be a direct line of sight path between the listener and the stereo pair of Minitowers.
The Minitower should be placed in the listening room in a position which allows for a maximum of reflected sound to fill the area. A minimum distance from a maximum number of reflective surfaces (i.e. corner of room) has the effect of increasing the size of the sound over the full frequency range. A maximum distance from a minimum number of reflective surfaces (i.e. centre [sic] of room or side wall) has the effect of enlarging the reverberent field which varies the concert hall effect. With a little experimentation, the listener will be easily able to determine one of the many optimum room positions made possible by the placement flexibility of this speaker.
specifications - crossover schematic - brochure text - order parts
* * *
Top - Contact -
General Topics (Home)
New Speakers - Owner Support - DIY Projects
EPI and Epicure - Genesis Physics -
All Other Speaker Repairs
© Copyright - All Rights Reserved
7 Kelsey Road, Lee, New Hampshire 03861
Prices can change and specifications will improve without notice