Questions?
Call 603 659 5335 or email me
The long-awaited HUMAN 81 DK is now available.
Best viewed in "landscape" mode.
HUMAN K-400E Speaker Kit
$1272.00 / pair
The EPI 400 and Epicure 400+ are extreme applications of the six inch "module" speaker, using a four-sided column with one module on each side. This yields far greater power handling, and close to omnidirectional dispersion.
The K-400E is a complete kit for rebuilding either of these models. The tweeter is built on a 5" diameter faceplate (the PRO 002 ME1), and the input terminal/crossover/wiring assembly is based on a round cup that is mounted in the opening in the original cabinet. It also features the updated replacement woofer, the PRO 007, and if your old grills were nailed or glued on, I include some Velcro to reinstall them.
If you rebuilding a pair of the Epicure 400+ speakers, you will first send me your rectangular metal input terminal cup to build your crossover and wiring on. I also replace the binding posts with ones that accept up to 12 AWG wire easily. (This is the ACC 004 H.)
The HUMAN K-400E Kit includes:
8 PRO 007 woofers
8 PRO 002 ME1 tweeters
2 Terminal cups with gold plated 5-way binding posts
2 Complete wiring harness/crossovers
Screws to install all parts
Velcro for grill mounting (if needed)
Basic instruction sheet (and telephone/email support)
Here are a couple of random photos from when I last rebuilt a pair of Epicure 400s here - one showing the wiring harness before installation, and another from when I am about to install the grills with Velcro.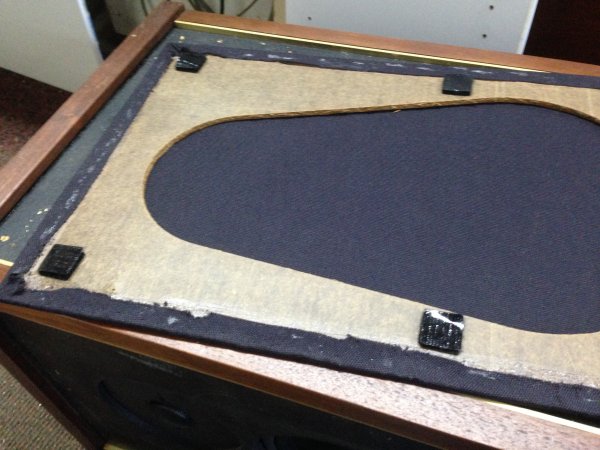 * * *
Top - Contact -
General Topics (Home)
New Speakers - Owner Support - DIY Projects
EPI and Epicure - Genesis Physics -
All Other Speaker Repairs
© Copyright - All Rights Reserved
7 Kelsey Road, Lee, New Hampshire 03861
Prices can change and specifications will improve without notice