Questions?
Call 603 659 5335 or email me
The long-awaited HUMAN 81 DK is now available.
Best viewed in "landscape" mode.
HUMAN K-8841 Speaker Kit
$946.00 / pair
Building speakers based on classic designs:
HUMAN 88-41; Genesis 66
(back to kit/legacy projects)
See the gallery of projects below
The HUMAN 88-41, and its ancestor, the Genesis 66, break with the tradition of simplicity started way back in the EPI days. Rather than using multiple sets of woofer and tweeter "modules" to increase power handling (and bass response), they use a more conventional solution, the addition of a midrange driver to reduce the workload on the tweeter. Two eight inch woofers are used to double the low end capabilities. This is a very smooth, seamless sounding speaker, with strong, tight bass, an articulate midrange and airy, spacious highs.
The crossover in a three way speaker always ends up being much more complex than in a two way system. The midrange has been set to handle the most sensitive part of the frquency spectrum, the human voice range, from about 400 to 4000 Hz. Below this the woofers do the work of providing clean bass; above this range the tweeter takes over. The crossover slopes are all fourth order, taking into account the natural electrical and mechanical roll offs of the drivers themselves.
Details:
Interior dimensions in inches, volume in cubic feet:
| | | | | |
| --- | --- | --- | --- | --- |
| model | long face | short face | depth | volume |
| HUMAN 88-41 | 45.5 | 8.5 | 16 | 3.58 (sealed) |
| Genesis 66 | 42.5 | 16.5 | 10.5 to 4.5 | about 2.8 (vented) |
Stock bracing: The HUMAN 88-41 uses three "shelf" braces, which are pieces of MDF that fit completely around the inside of the box, with big holes cut in them to allow the free passage of air. They are spaced unevenly to minimise resonances as much as possible. The Genesis 66 has about six separate smaller front to back braces.
Driver position: Due to the narrowness of the front panel, the HUMAN 88-41 woofers are simply centered horizontally, while the midrange and tweeter should be slightly off center, in a mirror-imaged arrangement. The tweeter should be approximately at ear level when you are seated.
The HUMAN 88-41 Kit includes:
4 PRO 006 woofers
2 PRO 054 midranges
2 PRO 002 M2 tweeters
2 Terminal cups with gold plated 5-way binding posts
2 Complete wiring harness/crossovers
Screws to install all parts
Pegs and sockets for grill mounting
Basic instruction sheet (and telephone/email support)
You provide:
The cabinet
The grill, if desired
Internal damping material (e.g. fiberglass, polyester, etc.)
Here is a photo of the parts for one speaker (set up for the biwiring option):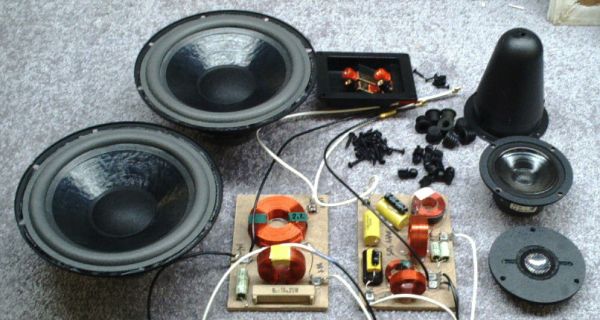 Here are several 8841 crossovers ready to have their lead wires soldered on: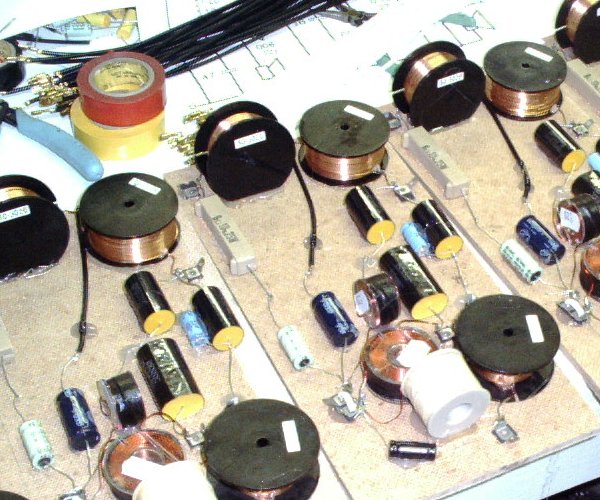 8841 Kits
| | |
| --- | --- |
| Joe's pair from the early 1990s | Al's pair, with a lot of photos |
| | |
| --- | --- |
| Russ's fine examples | I built a pair in some old but sturdy cabinets to serve as rear channel speakers |
| | |
| --- | --- |
| Daren's tricky cabinets | |
* * *
Top - Contact -
General Topics (Home)
New Speakers - Owner Support - DIY Projects
EPI and Epicure - Genesis Physics -
All Other Speaker Repairs
© Copyright - All Rights Reserved
7 Kelsey Road, Lee, New Hampshire 03861
Prices can change and specifications will improve without notice