Questions?
Call 603 659 5335 or email me
HUMAN Speakers is still building and shipping speakers
during this public health crisis More information.
Best viewed in "landscape" mode.
Genesis Physics Speakers:
Model 44 Information
specs - crossover schematic - stand - order parts: Original or Series 2
(Above and right: The typical teak vinyl finish.
Below: oak veneer finish, with original series parts.)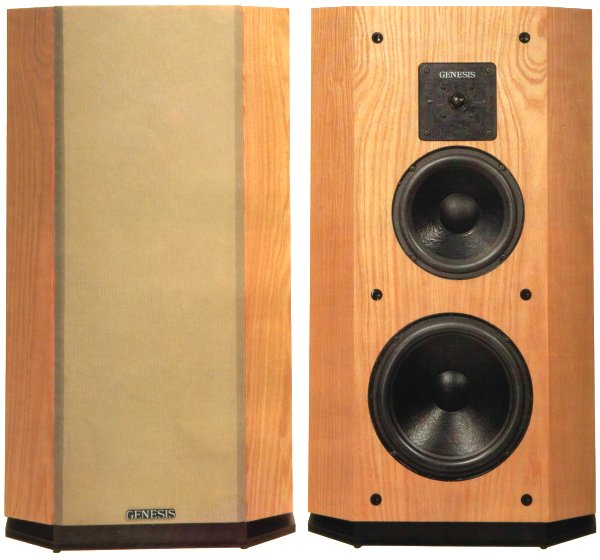 Specifications
photo/top - crossover schematic - stand - order parts: Original or Series 2
Dimensions
32.5"
Width
18"
Depth
9"
Weight
42 lbs
Finish
teak vinyl or oak veneer

Original:



Tweeter: 1" modified dome ("STG")
PRO 002 MG
$61.00
Woofer: 8" treated paper cone ("SW10P")
PRO 005
$75.00
Passive radiator: 10" treated paper ("SP5P")
PRO 014
$51.00
Complete rebuild kit
K-8110G
$426.00 / pair
(Slightly more for original crossover configuration)
Crossover frequency
1100 Hz
Sensitivity, 1w at 1m
88 dB
Frequency response
25 Hz to 25 kHz
Recommended amplifier power
30 - 350 "wideband"
Impedance
6 ohms

Series 2:
(very few made)



Tweeter: 1" concave aluminum dome ("STL")
PRO 002 MG
$61.00
Woofer: 8" polypropylene cone ("GTX205F")
PRO 009
$75.00
Passive radiator: 10" flat, foam-faced
PRO 014
$51.00
Complete rebuild kit
K-8110G
$426.00 / pair
Crossover frequency
1500 Hz
Sensitivity, 1w at 1m
91 dB
Frequency response
34 Hz to 25 kHz
Recommended amplifier power
15 - 150
Impedance
5 ohms
Crossover schematic
photo/top - specifications - stand - order parts: Original or Series 2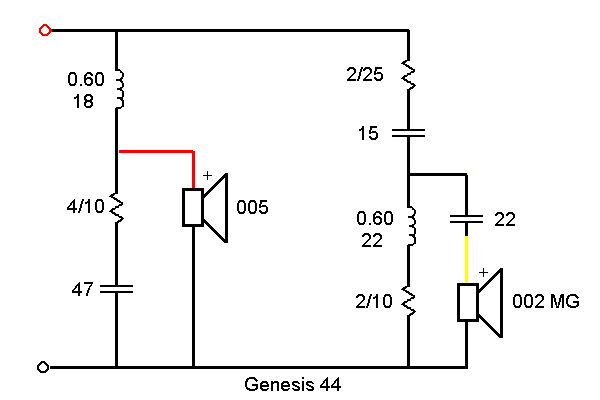 Key to Crossover Symbols and Component Values (in a new window)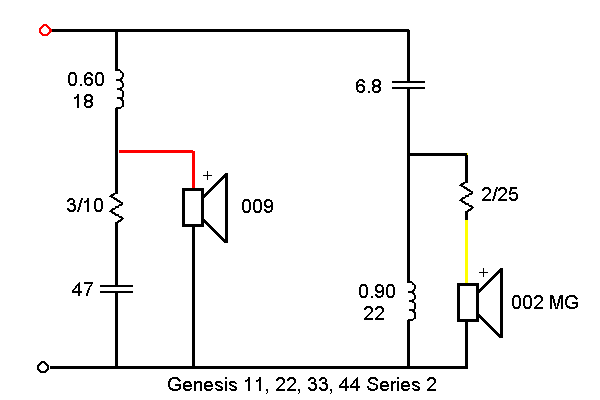 specs - crossover schematic - order parts: Original or Series 2
Stand
The Genesis 44 was shipped with a simple base or stand that tilted it back a bit. This was a generally good idea. It time-aligned the two active drivers somewhat, and also broke the speaker's parallels with the room boundaries. However, in some rooms they sounded better without it.

I recently had a chance to get a close look at one, after all these years, so I took some quick measurements and photos for people seeking to make their own.

It is an irregular octagon, cut out of an 18" by 9-1/2" rectangular piece of 3/4" particle board. That length and width are cut down symmetrically to 12-5/8" and 4-3/4", respectively. I did not measure the angle resulting from that, or the length of the four new sides.

The cleat at the front is 11-3/4" long, 3/4" thick, and about 1-1/32" tall in the front and 7/8" in the back.

It is held in place with four #10 fully-threaded wood screws, which were, if I recall correctly, 2-1/2" long in the front, going through the cleat, and 1-1/2" in the rear, lining up with pilot drilled holes in the cabinet.

The stands had four simple hard rubber feet. I do not remember if they were nail-in types or stuck in place with glue.

* * *
Top - Contact -
General Topics (Home)
New Speakers - Owner Support - DIY Projects
EPI and Epicure - Genesis Physics -
All Other Speaker Repairs

© Copyright - All Rights Reserved
7 Kelsey Road, Lee, New Hampshire 03861

Prices can change and specifications will improve without notice