Questions?
Call 603 659 5335 or email me
The long-awaited HUMAN 81 DK is now available.
Best viewed in "landscape" mode.
EPI & Epicure Speakers:
The Epicure 3.0
specifications - crossover schematic - review text - order parts
(click on the images to see them full size)
The Epicure 3.0 is a speaker designer's dream project in many ways.
The cabinet is a truncated pyramid with curved edges and the tweeter mounted on top in a small round plastic capsule, in an attempt to time-align the voice coils and reduce the effect of the cabinet on the sound.
The grills were designed to offer no acoustic interference, although now they offer none at all, since they all disintegrated with time.
The cabinet is well-reinforced with cross braces. The 10" woofer, 6" midrange, and 1" concave dome tweeter are all optimized for the overall design.
Specifications
photo/top - crossover schematic - review text - order parts
Dimensions:
41 3/8" x 16 1/2" x 16 1/2"
(8 1/2" square at top)
Weight:
61 lbs
Response:
32 to 20k Hz
RMS Power:
30 to 250 watts
Crossover: 400 and 2600 Hz
10" woofer (2" voice coil)
PRO 019 (Rebuild)
$89.00 each
PRO 031 (New)
$112.00 each
1" air spring dome tweeter
PRO 002 ME3
$79.00 each
6" midrange
PRO 027
$63.00 each
Impedance:
4 ohms
MSRP:
1150.00
Built:
1978 - 86
Crossover schematic
photo/top - specifications - review text - order parts
This is the original version, from documentation and several examples: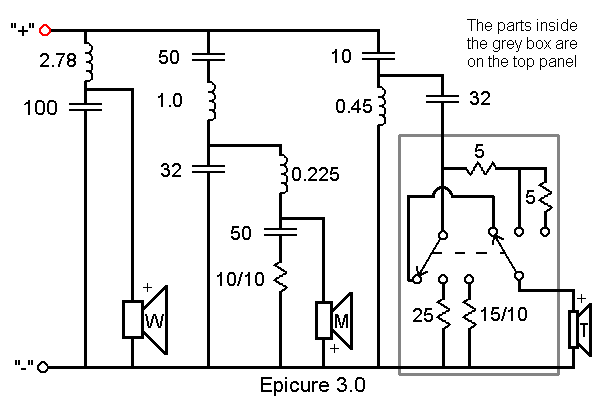 There is a later version that has the tweeter mounted further back on the top panel. This move resulted in some changes to the crossover between the midrange and tweeter.
This is the later version, from an example: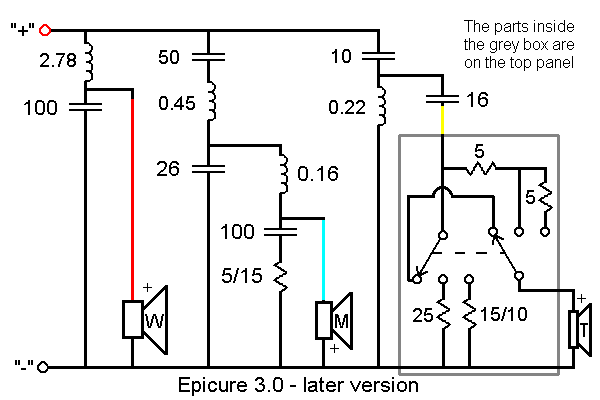 Key to Crossover Symbols and Component Values (in a new window)
* * *
Top - Contact -
General Topics (Home)
New Speakers - Owner Support - DIY Projects
EPI and Epicure - Genesis Physics -
All Other Speaker Repairs
© Copyright - All Rights Reserved
7 Kelsey Road, Lee, New Hampshire 03861
Prices can change and specifications will improve without notice