Questions?
Call 603 659 5335 or email me
The long-awaited HUMAN 81 DK is now available.
Best viewed in "landscape" mode.
Fred Locke Stereo
FLS 4 speakers
These were built by Genesis Physics for Fred Locke Stereo. They use the standard Genesis 8" woofer and inverted dome tweeter, and so are completely repairable using my parts.
specifications - crossover schematic - order parts
(photos courtesy an owner/customer)


photo/top - specifications - crossover schematic - order parts
Height
22"
Width
12.5"
Depth
9"
Weight
28 lbs
Finish
walnut vinyl
Tweeter: 1" concave dome
PRO 002 MG
$69.00
Woofer: "L200B" 8"
PRO 001
$76.00
Crossover freq.: 1800 Hz
ACC 004 B
$42.00
Frequency response
38 Hz to 20 kHz
Recommended
amplifier power
15-100 watts/ch
Impedance
8 ohms

photo/top - specifications - crossover schematic - order parts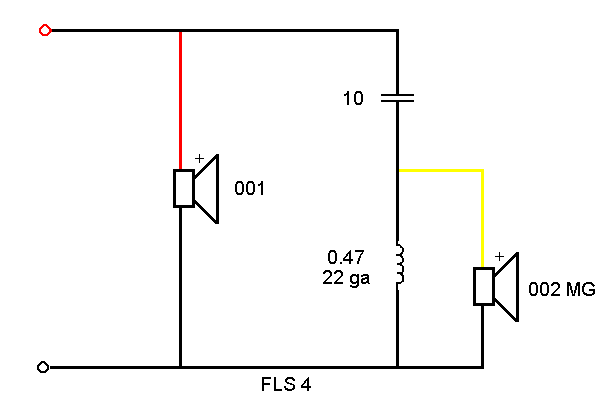 Key to Crossover Symbols and Component Values (in a new window)
* * *
Top - Contact -
General Topics (Home)
New Speakers - Owner Support - DIY Projects
EPI and Epicure - Genesis Physics -
All Other Speaker Repairs
© Copyright - All Rights Reserved
7 Kelsey Road, Lee, New Hampshire 03861
Prices can change and specifications will improve without notice