Questions?
Call 603 659 5335 or email me
The long-awaited HUMAN 81 DK is now available.
Best viewed in "landscape" mode.
61 Kit: Photographs
Back to the DIY Gallery
Back to the K61 page
In 2015, Norman in Auckland acquired a "New Old Stock" pair of PRO 007 woofers and PRO 002 B tweeters that I built in November of 1996. These are the speakers he built with them.
He says:
"I tried to keep the cost down as the priority is the good music from them, and yes, they are sounding brilliantly in my small room."
"I designed a truncated pyramid more or less like a trapezoid, inspiration from the Epicure 3.0 and one of the pics at your site. No sides are 90 degree corners, baffles are 15 degrees and the rest 5 degrees with respect to vertical. They have a volume of 14 liters, less minimal bracing. I used 18mm MDF, with 2mm thick black rubber foam found at craft stores to line the inside bottom/top/back/braces, and pillow filling. For the finish, I used black leatherette to cover the front/top/bottom and plastic vinyl with wood design for the sides and spray painted the back black. I would like to redo the side plastic vinyl once I get the chance on real wood veneer."
Here he is test-fitting all the pieces of MDF: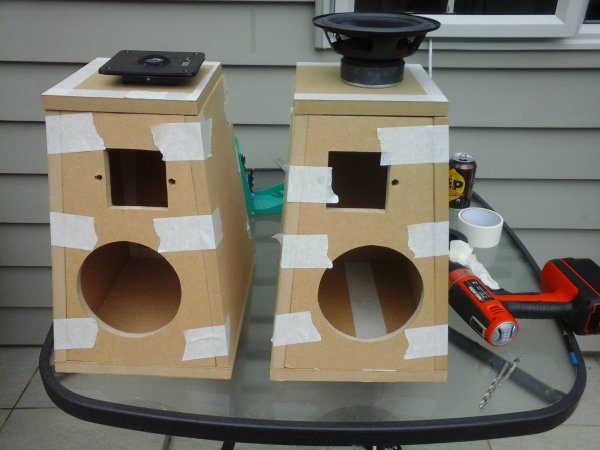 They have been glued together and sanded, and are ready for the various finishes.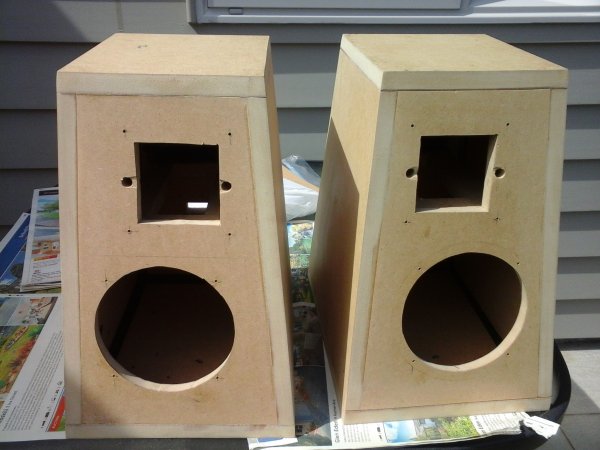 This shows the binding posts terminals he used on the rear, and you can note that every vertical panel is angled inwards: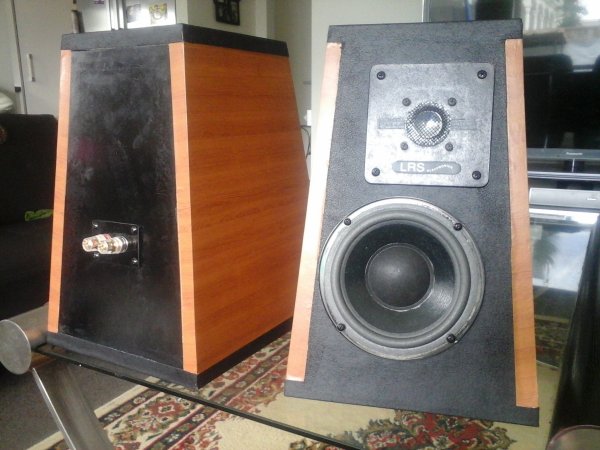 And, finally, a nice photograph showing them both from the front: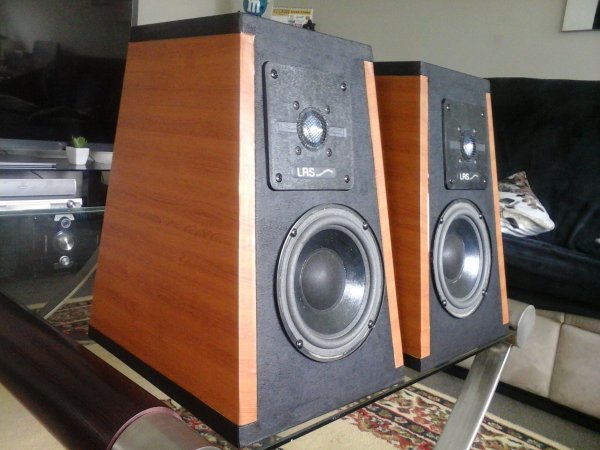 * * *
Top - Contact -
General Topics (Home)
New Speakers - Owner Support - DIY Projects
EPI and Epicure - Genesis Physics -
All Other Speaker Repairs
© Copyright - All Rights Reserved
7 Kelsey Road, Lee, New Hampshire 03861
Prices can change and specifications will improve without notice