Questions?
Call 603 659 5335 or email me
1987 - 2017: Thirtieth Anniversary!
Best viewed in "landscape" mode.
Current Specials
Upgrades of speakers listed here are all negotiable as to how much I do to them. All systems listed are pairs unless otherwise described.
Speakers that have been completely rebuilt sell as new with a full five year factory warranty.
(For any items which do not yet have photos, details, or pricing, let me know you are interested and I will get them done next)
---
HUMAN Speakers 81-10 - eight inch two-way, with ten inch passive, in tilted cabinets with large bevels.
$750/pair, plus shipping

---
EPI 100 matrix:
I often have pairs of EPI 100 cabinets in various conditions. Walnut vinyl cabinets, dark cloth grills.
With new woofers only, $150.00 per pair plus shipping. (Only available for the "lesser" condition cabinets.)
New tweeters, add $100.00 per pair.
New terminal/backplate/crossover/wiring assemblies, add $70.00 per pair.
That's $320.00 plus shipping for a pair of EPI 100s with all new parts.
Availability is contingent on inventory and condition.
Walnut wood veneer versions are $450.00/pair, and only available fully rebuilt (if I have any - check first).
I also have a decent pair of EPI 150s, in the real walnut veneer with "brass" trim and the lighter brown grill cloth.

---
A very special pair of HUMAN 81+ speakers in hand carved bas-relief cabinets.

---
Boston Acoustics A70 - eight inch two-way, very good condition except for one tiny grill cloth flaw.
$150 plus shipping.

---
Snell Acoustics Type E II - eight inch two-way with rear tweeter, real oak veneer.
---
Epicure 5 - six inch two-way, very nice real cherry veneer (the later, angle-sided cabinet).
$360.00, with HUMAN PRO 007 rebuilt woofers with butyl surrounds and new tweeters and crossover parts - effectively, these are HUMAN 61 clones. SOLD
---
Polk Audio S4 - six inch two-way in very nice black ash vinyl, great condition.
$150.00 plus shipping
---
Fried R/4 - ten inch three-way, real walnut veneer. The stands are a little banged up but still function perfectly.
$400.00 plus shipping.
---
Definitive Technology BP-2002 - piano black finish. Built-in ten inch powered subwoofers complement the dual 5.25 inch two way system with many wiring options.
$900.00
---
Cambridge Soundworks BassCube 15 prototype subwoofer (one system)
---
The (vinyl) walnut HUMAN 81s that went to WIRED magazine. These will come with a notarized certificate of provenance and a copy of the issue their photograph appears in. Own the pair that earned the 81 a 9/10 rating!
$727.50
---
HUMAN 88-41 built in 1995, refreshed, updated, and fully tested with new parts.
$3080.00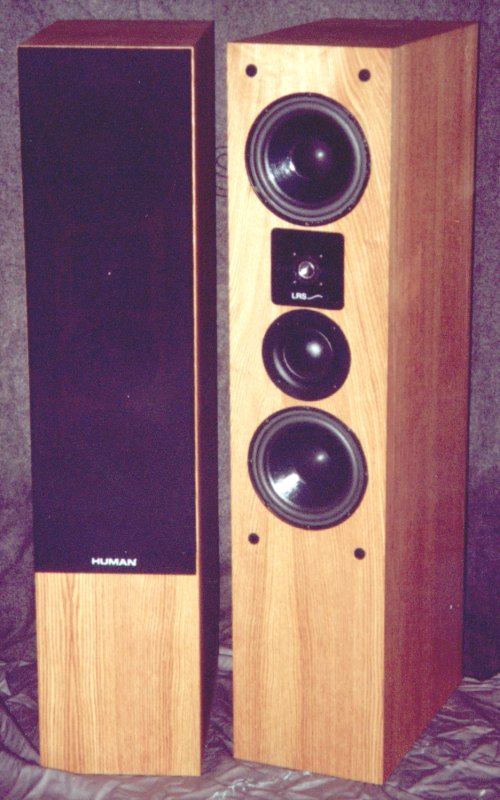 ---
The HUMAN 88-41/Genesis 66 prototypes.
$4850.00
---
$4500.00
---
EPI T/E 320 Series 2 with some new parts, $300, with more new parts, negotiable.
---
To order anything from this listing, contact me first, to determine if it is still available and get a shipping quote.

Please note: All sales of these items are final. Thank you!
* * *
Top - Contact -
General Topics (Home)
New Speakers - Owner Support - DIY Projects
EPI and Epicure - Genesis Physics -
All Other Speaker Repairs
© Copyright; All Rights Reserved
7 Kelsey Road, Lee, New Hampshire 03861
Like HUMAN Speakers on FaceBook:
Prices can change and specifications will improve without notice