Questions?
Call 603 659 5335 or email me
The long-awaited HUMAN 81 DK is now available.
Best viewed in "landscape" mode.
"Custom Eighty-Eight"
These HUMAN Custom 88-41 speakers started their lives as prototype cabinets for the Genesis 66, which eventually was built with a simpler (!) flat sided shape. I eventually inherited the original cabinets, so I built them for myself to enjoy, which I have done for many years.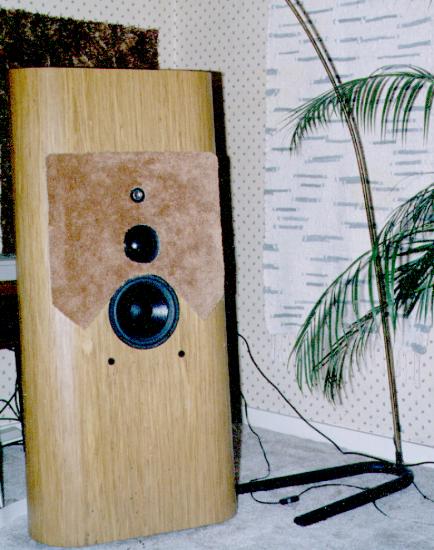 These speakers have two 8" woofers hand built by me (one is on the rear), one 4" dome midrange and one 1" tweeter which I also lovingly built by hand (when sold they will be freshly rebuilt with all new parts).
The crossover uses polypropylene capacitors in every section, high saturation air core chokes, and 25 watt non-inductive resistors. The bandpass slopes are all fourth order for phase coherence and minimal overlap between drivers.
The connections on the rear are via two sets of gold plated binding posts, one set for the midrange and tweeter and one for the woofers. They can be strapped together, or kept separate for bi-amping or bi-wiring.
The cabinets are oak veneered, with 1/2" of MDF, plywood, and sonotube forming the basic shape. Inside this is a layer of 1/8" thick lead, covering almost the entire inside of the box, with another layer of 1" pine inside that all the way around. They are braced inside every six inches or so for rigidity, and the bottom of each box has been filled with 25 pounds each of Levelastic and lead shot. The "beard" on the front eliminates unwanted forward reflection of the waveform produced by the drivers, and the side curves prevent diffraction effects from coloring the sound.
There is a 1 x 2 oak brace descending from near the cabinet top, at an angle opposite the front slope, to the "bottom' of a T-shaped 1 x 2 oak footing. There are three carpet piercing floor spikes at the ends of the "T". On the rear I have blind-bolted four brass and oak "coffin handles" to make it easier to move them around.
The speakers weigh about 160 pounds each and will easily handle 400 Watts RMS each. They will play from 25 Hz to 26 kHz with low distortion and excellent linearity.
If you are interested in owning these unique systems, with their fascinating history and place in the evolution of Genesis Physics and HUMAN Speakers, let me know and we will work something out.
* * *
Top - Contact -
General Topics (Home)
New Speakers - Owner Support - DIY Projects
EPI and Epicure - Genesis Physics -
All Other Speaker Repairs
© Copyright - All Rights Reserved
7 Kelsey Road, Lee, New Hampshire 03861
Prices can change and specifications will improve without notice