Questions?
Call 603 659 5335 or email me
The long-awaited HUMAN 81 DK is now available.
Best viewed in "landscape" mode.
| | | | | | |
| --- | --- | --- | --- | --- | --- |
| Midrange | (none) | Power | 5 - 50 w | Width | 11.375" |
| Tweeter | 1.5" | SPL (dB) | 93 | Depth | 10" |
| Crossover | 1500 Hz | Controls | Mid. switch | Weight | 25 lbs |
Original brochure text and photograph:
The Green Burhoe: Disco Sound - High Efficiency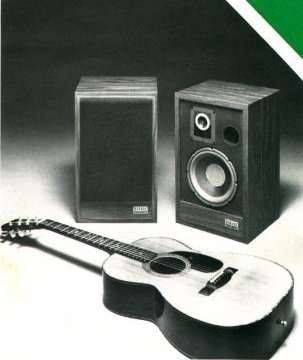 The Green Burhoe dispels the myth that room-shaking, disco sound must carry a big pricetag. Not only is the Green remarkably low in price, but, for a speaker its size, it is remarkably efficient.
Efficiency means that a relatively low powered amp or receiver will bring out all the performance that the Green can deliver. Even a five-watt amplifier - less power than most "economy" amps - can drive the Green satisfactorily. That kind of efficiency is remarkable for a speaker that is barely more than a foot and a half high.
If your amplifier is larger, the Green can handle more power - up to 50 watts per channel. And, like all Burhoe speakers, the Green is fully protected by the toughest warranty in the industry. The Green has been designed to stand up to heavy accidental overloads that can burn out ordinary tweeters. We mean that! And to prove it, we'll replace any drivers that fail in normal use for six full years!
Whether you're buying a complete system on a small budget or upgrading an older system that has a small amp, the Burhoe Green is ideal.
What's more, it's small enough to serve as an extension speaker in the kitchen, bedroom, or anywhere else that space is limited. For all around economy and value, nothing can beat the Green Burhoe.
Crossover schematic, per example: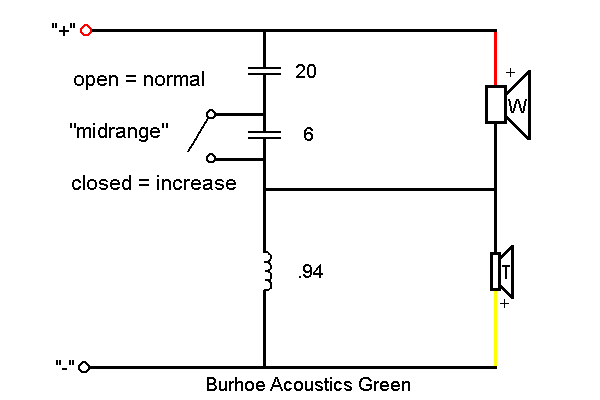 Key to Crossover Symbols and Component Values (in a new window)
* * *
Top - Contact -
General Topics (Home)
New Speakers - Owner Support - DIY Projects
EPI and Epicure - Genesis Physics -
All Other Speaker Repairs
© Copyright - All Rights Reserved
7 Kelsey Road, Lee, New Hampshire 03861
Prices can change and specifications will improve without notice