Questions?
Call 603 659 5335 or email me
The long-awaited HUMAN 81 DK is now available.
Best viewed in "landscape" mode.
Woofer
10"
Response
30 - 26000 Hz
Height
24.25"
Midrange
1.5"
Power
25 - 100 w
Width
14.25"
Tweeter
1"
SPL (dB)
92
Depth
10.5"
Crossover
1000, 2000 Hz
Controls
Tw. & Mid. level
Weight
42 lbs
Original brochure text and photograph:
The Blue Burhoe: Versatile performer - Flat Response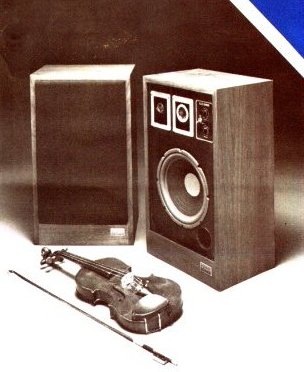 The Blue Burhoe is the ultimate classical bookshelf speaker in the Burhoe Acoustics line. Designed to be used in either vertical or horizontal position, the Blue has a degree of flexibility that makes it well suited to a very wide variety of listening-room configurations.
Although the Blue uses the same highly efficient, tuned port system as all other Burhoe speakers, it is the least expensive unit to provide the benefits of three active drivers.
Because one of those drivers is the revolutionary Burhoe biradial tweeter, the Blue can deliver frequencies up to 26,000 Hz. An inverted-dome midrange driver is used to enhance the flatness of the Blue's over-all frequency response. Finally, a ten inch woofer, working with an optimized tuned port, delivers low frequencies right down to 30 Hz.
A further enhancement to the flexibility of the Blue Burhoe are the dual tweeter controls that allow the listener to adjust the amount of overlap and, therefore, the amount of dispersion. For more directed sound and enhanced stereo effects, turn up both tweeters to increase the amount of overlap. For wider dispersion, just turn down either tweeter. By changing the dispersion characteristics of the Blue, you can bring voices up front and increase stereo imaging. You can also get crisper highs by turning on the high frequency switch.
It's simple to tune the Blue perfectly to any room and to all types of music material. That means that although the Blue is designed to deliver the flatness demanded by classical music lovers it can also meet the equally demanding requirements of rock music fans.
For superbly uncompromising sound and all around performance in any listening environment, it's hard to beat the Blue Burhoe.
This great photo courtesy of the current owner of a pair: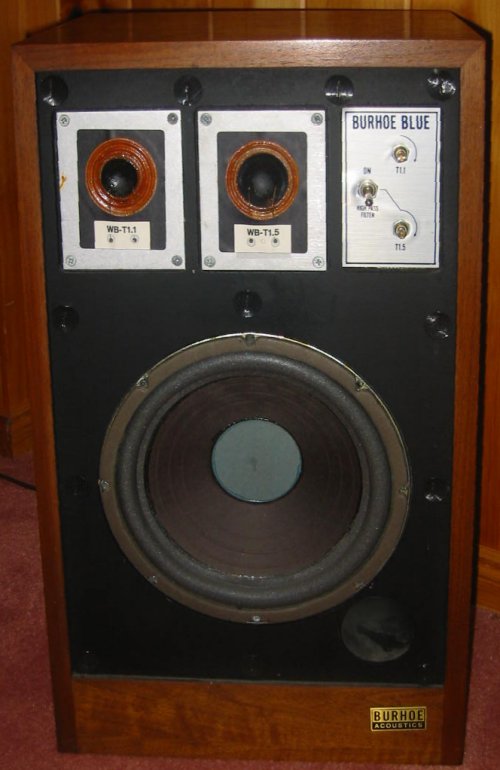 Crossover schematic, per example: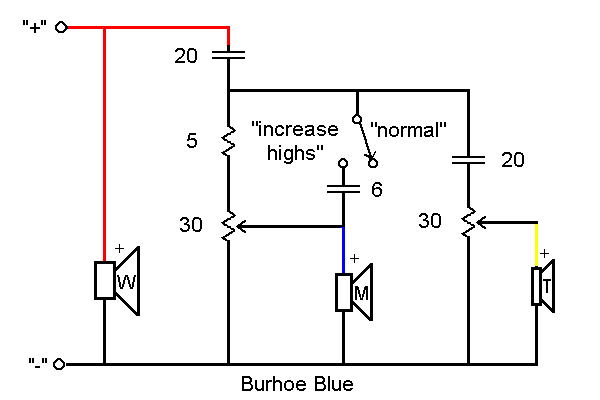 Key to Crossover Symbols and Component Values (in a new window)
And here is yet another photo, of a customized pair of Blues (courtesy Doug Cabaniss):
* * *
Top - Contact -
General Topics (Home)
New Speakers - Owner Support - DIY Projects
EPI and Epicure - Genesis Physics -
All Other Speaker Repairs
© Copyright - All Rights Reserved
7 Kelsey Road, Lee, New Hampshire 03861
Prices can change and specifications will improve without notice