Questions?
Call 603 659 5335 or email me
The long-awaited HUMAN 81 DK is now available.
Best viewed in "landscape" mode.
Model QT-1+
$278.00 /pair
(see the big picture)
(build a pair yourself using HUMAN parts!)
The HUMAN QT-1+ was developed to meet the need for a great sounding inexpensive speaker.
They are a perfect alternative to the low quality products frequently available through mass market outlets. This level of quality at this price is only possible because I sell them factory direct to you, the customer.
The cabinets are well made and solid, with an attractive "black ash" vinyl finish. I use a carefully chosen imported woofer that goes low cleanly while doing a nice job of reproducing the lower midrange tones. The tweeter I use is likewise an imported 3/4" dome unit I picked for its superb quality of sound in a small driver.
The connection terminal is outfitted with high quality audiophile grade five-way binding posts, the internal wiring is specially produced 16 gauge, and the crossover incorporates an audiophile grade film type capacitor.
These make great speakers for small rooms, spaces where power demands are not great, and computer sound applications. They are just right as extension speakers in a second room away from your main stereo. They are perfect if you are used to good sound, and need some smaller speakers somewhere, anywhere!
My poor friends who wish they could afford more will often buy a pair of these until they get real jobs, and then they will have me make them some 81's or 81-10's, and then put these in the bedroom or kitchen (mine are in the bathroom). It works for us, and I bet it will work for you.
Thanks!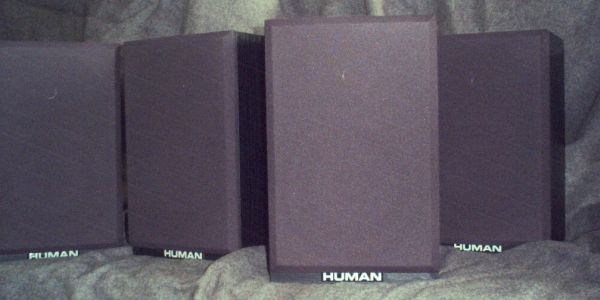 In these photographs the grilles look lighter than in reality.
They are as black as the boxes.
| | |
| --- | --- |
| | |
| (local artists rendering) | |
* * *
Top - Contact -
General Topics (Home)
New Speakers - Owner Support - DIY Projects
EPI and Epicure - Genesis Physics -
All Other Speaker Repairs

© Copyright - All Rights Reserved
7 Kelsey Road, Lee, New Hampshire 03861

Prices can change and specifications will improve without notice