Questions?
Call 603 659 5335 or email me
HUMAN Speakers is still building and shipping speakers
during this public health crisis More information.
Best viewed in "landscape" mode.
The advent of Home Theater systems has finally saved the concept of surround sound from the disaster it encountered in the 1970's, when several competing, poorly functioning systems were rejected by consumers as confusing and clumsy.
Today's systems have been propelled largely by the motion picture industry. Several discrete channels of information, which will create a fully enveloping sound field when reproduced, are provided as separate digital streams, or multiplexed onto two analog channels. The consumer armed with a good quality decoder, whether a separate component or included in a good receiver, can achieve breathtaking effects and realism when the system is properly set up.
Two main front speakers are still recomended (by me) and are still preferred for listening to (unencoded) music. When listening to various Surround encoded sources, however, the front and rear (and sometimes side) channel information is decoded and amplified. The rear speakers are usually smaller systems than the main front speakers, but should correspond closely in sound quality. The front center channel carries the dialog, in order to tie the actors' voices tightly to the screen. This is very important if off-center listening positions are planned.
The sound quality of the rear and center channel speakers is a lot more important than most giant companies peddling these products seem to think. For the surround sound effects to work properly, the sounds shared by any two speakers must have the same characteristics in order for the ear and brain to combine them and form the appropriate side, front, and rear imaging. That is why I make these speakers for you.
I currently build two explicit center channel speakers, designed to complement the other speakers I make.
The C2 uses two of my six inch woofers and my aluminum concave dome tweeter. The cabinet is rugged enough to serve as a video monitor stand in most cases. This speaker is far better than most of the crummy little modules I see around. It will blend well with the other speakers I build, and of course also with classic EPI and Genesis speakers. It may put to shame main speakers of other brands, so beware!
The photographs below show the marginally obsolete first generation of this speaker, which was designed around the cathode ray tube type monitor. As such, the drivers were magnetically shielded to prevent interference, and the cabinet utilized the depth available under a tube television set for its volume. It was also intended to act as a stand if needed.
The current version, the C2+, (images available soon) is designed to accomodate modern solid state monitors, which typically protrude from the wall by six to ten inches in most installations. Its exact configuration is not carved in stone as of yet, but two possibilities are in the running. The first, and most likely, is a fairly wide box about 10" high and 6 to 8" deep, the second is similar to the old version sitting on its back, with an angled top.
This system will result in the fullest enjoyment of your Home Theater sources, which is why you have them in the first place.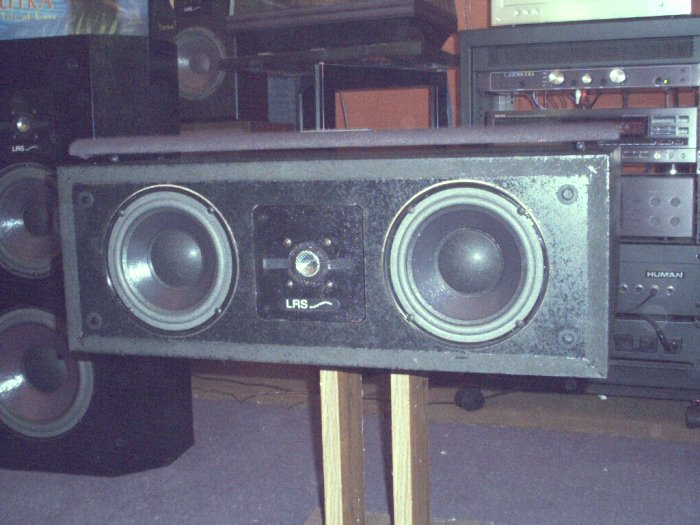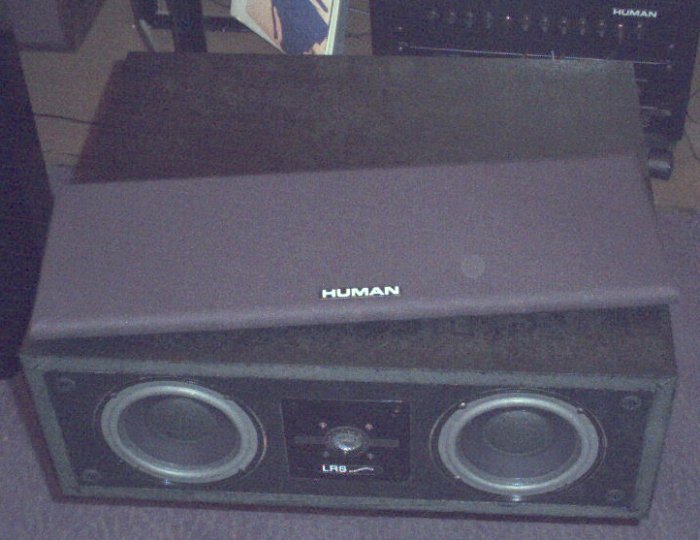 This is a demo unit that actually resides in my living room.
The finish is quick'n'dirty but the sound is fabulous!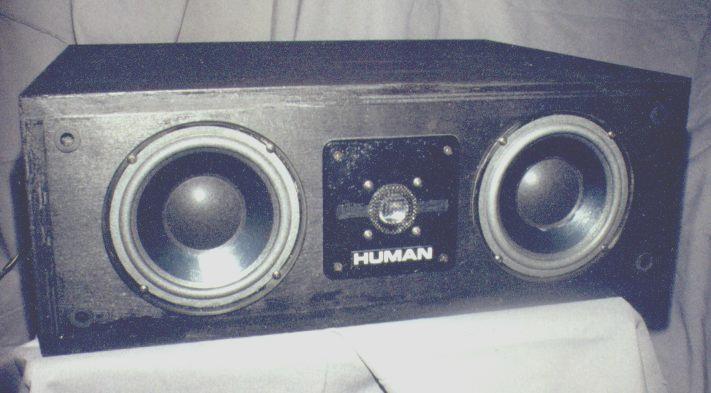 Here it is under construction: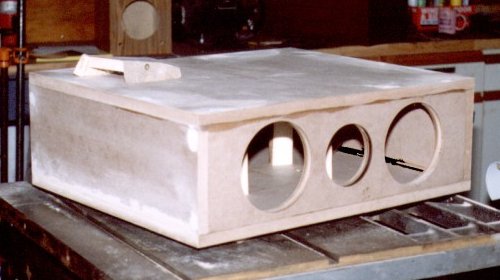 * * *
Top - Contact -
General Topics (Home)
New Speakers - Owner Support - DIY Projects
EPI and Epicure - Genesis Physics -
All Other Speaker Repairs

© Copyright - All Rights Reserved
7 Kelsey Road, Lee, New Hampshire 03861

Prices can change and specifications will improve without notice