Questions?
Call 603 659 5335 or email me
HUMAN Speakers is still building and shipping speakers
during this public health crisis More information.
Best viewed in "landscape" mode.
Model 66
$2525.00 /pair
For a long time I wanted to build a speaker using two six inch woofers and my tweeter in a vertical array. By the time I found a cabinet maker capable of the quality work necessary, this arrangement had become almost a cliche! Still, I feel my design has many points to commend it.
I build all my own drivers here under my own quality control.
The two six inch long throw woofers have been developed specifically for this speaker. They produce a superbly articulated, powerful bass and transparent lower midrange. Carefully treated cones with felt dust caps, oversize magnets and space age adhesives work together in sublime harmony to sound like the music being played, not like a speaker.
The one inch high frequency driver is a concave aluminum dome for incredible life-like imaging and "air".
The bass drivers, above and below the tweeter, converge at its center acoustically. This creates the effect of a "point source"; floating in space, just as the microphone was in the recording studio.
The speakers are designed to sound the same from any angle - uncolored and neutral. The reverberant, delayed sound from the room has exactly the same character as the direct sound, so the speakers feel open and natural.
I use matched sets of drivers and high quality crossover components to strive for perfection in audio.
Here is an early pair in black and another pair in cherry, ready to construct.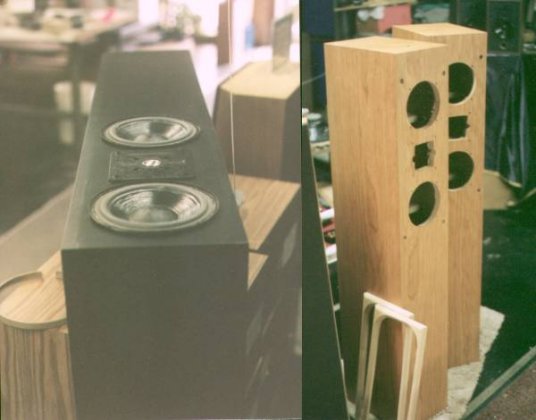 * * *
Top - Contact -
General Topics (Home)
New Speakers - Owner Support - DIY Projects
EPI and Epicure - Genesis Physics -
All Other Speaker Repairs
© Copyright - All Rights Reserved
7 Kelsey Road, Lee, New Hampshire 03861
Prices can change and specifications will improve without notice