Questions?
Call 603 659 5335 or email me
HUMAN Speakers is still building and shipping speaker parts
and complete speakers during this public health crisis.
Please follow advised guidelines for handling packages upon arrival.
Best viewed in "landscape" mode.
Replacement part number PRO 013
$17.00 each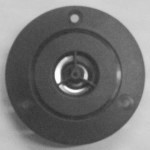 This is a replacement for the 1/2" dome tweeter used in the following EPI/Epicure models:
100 series 2/3, 120 series 2/3
The number on the identifying sticker, if it has one, might be 72274.
It is not necessary to return the old part when purchasing this part.
* * *
Top - Contact -
General Topics (Home)
New Speakers - Owner Support - DIY Projects
EPI and Epicure - Genesis Physics -
All Other Speaker Repairs
© Copyright - All Rights Reserved
7 Kelsey Road, Lee, New Hampshire 03861
Like HUMAN Speakers on FaceBook:
Prices can change and specifications will improve without notice