Questions?
Call 603 659 5335 or email me
The long-awaited HUMAN 81 DK is now available.
Best viewed in "landscape" mode.
PRO 002 MX Custom Tweeter
$85.00 each
Note: Price and availability of this concept product are tentative!
Design your own replacement or custom concave aluminum dome tweeter!
If you have an application which none of my existing tweeters will fit appropriately, it is possible for me to make two that match your needs following a set of basic specifications.
Basic Requirements
The basic requirements are these:
The faceplates are 3/16" thick, and textured on the front.
A 2.75" diameter space is needed for the magnet structure.
Space somewhere outside the circumference of the magnet structure for two 0.25" projections for terminals - and this is optional.
Information Please
You tell me:
The outer dimensions of the faceplate.
The position of the center of the tweeter in that faceplate.
Where any mounting screw or bolt holes should be, and their size. Size examples would be #8 countersunk, #6 flat recess (for pan head screws), etc.
What "clock face" positions you want the terminals positioned at, and the polarity.
What the terminals should be, for both plus and minus. You have four choices: 0.200" male, 0.100" male, 0.250" male, and 0.250" female. The quarter-inch terminals need a slightly larger area outside the magnet OD.
It is possible to build them with no terminals - the voice coil flexible tinsel leads can be left unterminated on the front of the tweeter so you can attach them to whatever you want. They will typically be 180 degrees from each other, and the polarity will still be indicated by the sticker on the back.
You send me this information and I will have the faceplates made and build you a pair of tweeters.
It would also make sense to tell me what they are for. If they go in a commercial product, it will help me decide if I want to make them as a regular part. In this case you should also try to tell me what other products they will fit.
Amusing Example
Here is a modest example of what you might want: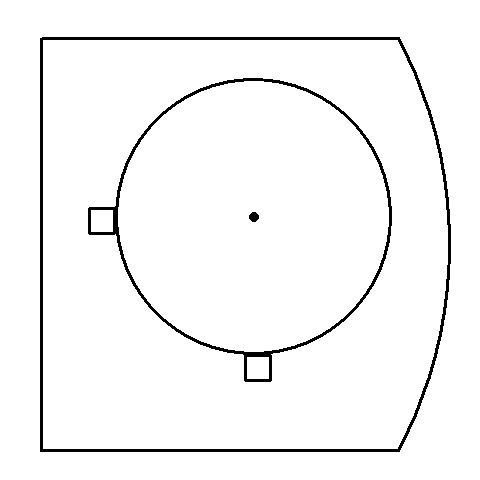 This could be described by the dimensions of the partial rectangle, the radius of the curved edge, the coordinates of the magnet center, and the terminal positions (six and nine o'clock in this example).
I didn't bother with screw holes, polarity indications, or terminal type here.
Delivery Time
Upon receipt of your order, I will convert your requirements into a drawing and submit it to my machine shop. It takes two to four weeks for them to get the faceplates to me, and then a few days for me to turn them into tweeters.
Sometimes I might make yours by modifying tweeter faceplates I keep in stock; this could reduce the lead time.
Responsibility
The risk and responsibility for getting these made correctly comes down to you have to get the dimensions exactly correct.
Since these are custom parts made to your specifications, there are no returns or refunds. They still carry my one-year guarantee, and are generally still repairable if you damage them by accident.
I may request an example of what you are replacing and a good photo of the cabinet location in order to be sure we are getting the dimensions exactly correct.
Quantity
All of this is based around the purchase of two unique tweeters. If you only want one, the price will be higher. Don't get just one.
If you want more than two, the unit price may be slightly less.
If in the occasional circumstance I see a case for offering what you are having me make as a regular part, the price will be $69.00, the same as any other PRO 002 M-series tweeter.
"Reorders" will cost the same as the first time around, so plan ahead if you think you might want to have ten made.
If you and your friends/forum/cabal want ten or more identical tweeters, they will likewise be $69.00 - but you will have to buy them as one order.
Probably Not
Alternatively, you can 3D print your own faceplates to my specification and send them to me to build.
* * *
Top - Contact -
General Topics (Home)
New Speakers - Owner Support - DIY Projects
EPI and Epicure - Genesis Physics -
All Other Speaker Repairs
© Copyright - All Rights Reserved
7 Kelsey Road, Lee, New Hampshire 03861
Prices can change and specifications will improve without notice