Questions?
Call 603 659 5335 or email me
HUMAN Speakers is still building and shipping speakers
during this public health crisis More information.
Best viewed in "landscape" mode.
PRO 002 MA1
$64.00 each
This configuration of my aluminum concave dome tweeter was designed to be a drop-in upgrade for the original large Advent speakers known as the OLA, NLA, the A4, and probably a few others. It replaces the so-called "fried egg" tweeter.
The aluminum concave dome is smooth and sweet, with very wide dispersion across the frequency range.
Since it has similar efficiency and impedance characteristics to the tweeters Advent used, it will work with the existing crossovers.
It measures 5 by 4-3/8 inches, and the mounting holes are at 4-1/2 by 3-7/8 inch spacings, accommodating #10 screws. The input terminals are both 0.200" male tabs, all as used in those vintage Advents.
It can, of course, be used in any application where its dimensions are convenient.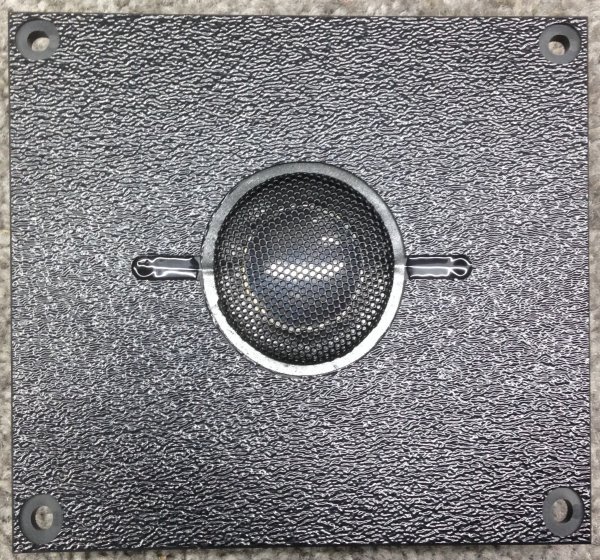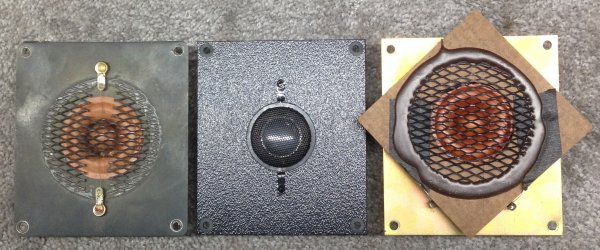 A new HUMAN Speakers PRO 002 MA1
flanked by a couple of very old Advent tweeters
* * *
Top - Contact -
General Topics (Home)
New Speakers - Owner Support - DIY Projects
EPI and Epicure - Genesis Physics -
All Other Speaker Repairs
© Copyright - All Rights Reserved
7 Kelsey Road, Lee, New Hampshire 03861
Prices can change and specifications will improve without notice