Questions?
Call 603 659 5335 or email me
Best viewed in "landscape" mode.
Bose Speaker Repairs
501
I always liked the Bose 501. It has great bass, and the high frequency dispersion is quite natural sounding.
A pair were brought to me sporting some bastard woofers, one set of blown tweeters, and a pair of new tweeters to be installed.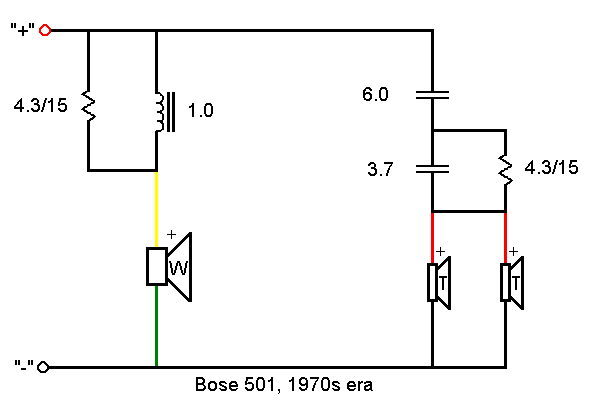 Key to Crossover Symbols and Component Values (in a new window)
602
I have worked on a couple of pairs of these, which came in with various mixed issues.
* * *
Top - Contact -
General Topics (Home)
New Speakers - Owner Support - DIY Projects
EPI and Epicure - Genesis Physics -
All Other Speaker Repairs
© Copyright; All Rights Reserved
7 Kelsey Road, Lee, New Hampshire 03861
Like HUMAN Speakers on FaceBook:
Prices can change and specifications will improve without notice