Questions?
Call 603 659 5335 or email me
1987 - 2017: Thirtieth Anniversary!
Best viewed in "landscape" mode.
Model 81
$510.00 /pair
As featured in Wired magazine
Build a pair yourself using HUMAN parts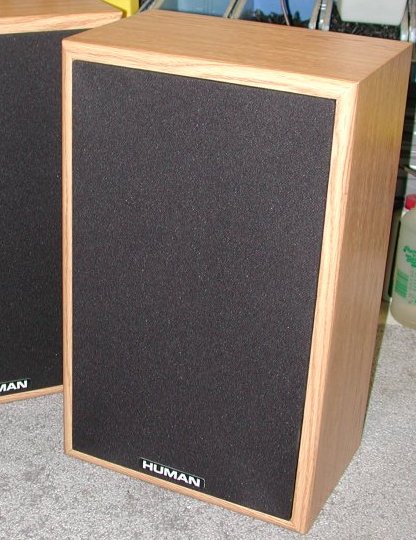 18¼ tall x 11½ wide x 7½ deep
19 pounds
160 watts
41 Hz to 26 kHz
The
HUMAN 81
is a smaller, more economical execution of what the
model 81+
brings to the table. It uses exactly the same parts, installed in an attractive vinyl clad cabinet that is less demanding of living space to set up.
It is everything most people will ever need in a speaker. It is descended from, and pays homage to, the classic EPI 100, termed a "best buy" by Consumer Reports for many years.
To those who appreciate the high quality of many vintage hi-fi pieces, these speakers are an opportunity to buy a similar experience new, with modern improvements, and a full manufacturer's warranty.
For those who are seeking out the latest in technology, I try and test all the latest developments, and incorporate those that I think will stand the test of time.
It is a simple and elegant product featuring my hand made eight inch woofer and one inch concave dome tweeter. It achieves a level of musical realism seldom seen in this price range.
Their high power handling provides excellent transient response.
A very wide frequency response will faithfully reproduce any type of music (or video soundtrack).
Uniform power response reproduces all frequencies equally at all angles, resulting in a very "natural" sound.
The minimalist crossover design eliminates phase effects.
Ultra low distortion so that even the most complex passages remain clear.
All this from a pair of boxes small enough to easily place in most rooms.
My drivers are rugged and purist, and designed to complement each other's range and clarity. The eight inch woofer, in this cabinet, is flat from 42 Hz to 1800 Hz, where the one inch concave aluminum dome tweeter takes over (most tweeters couldn't handle a crossover this low) and finishes the job out to 26 kHz, beyond human hearing. A minimalist crossover design prevents stored energy from smearing the musical detail and provides excellent transient response. The acoustic suspension (sealed cabinet) design provides for clean, tight undistorted low bass.
This speaker is built to high standards, featuring:
A heavy, internally braced cabinet to minimize resonance.
Carefully designed angles on the inner edge of the grill frame and curved cabinet edges to reduce diffraction effects.
Gold plated 5-way binding post input terminals, to securely accomodate your choice of speaker wire and connectors.
The crossover uses an audiophile grade polypropylene film capacitor, to produce a smooth, undistorted high frequency range.
16 gauge oxygen-free copper internal wiring.
A butyl rubber surround on the woofer for excellent longevity.
Order now!
Here are a pair in the black vinyl finish (linked to a larger version):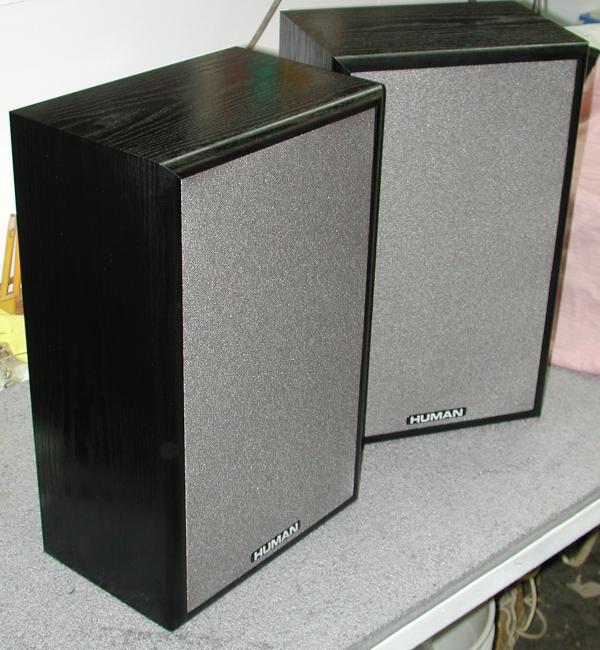 This is a pair in the oak vinyl finish (linked to a larger version):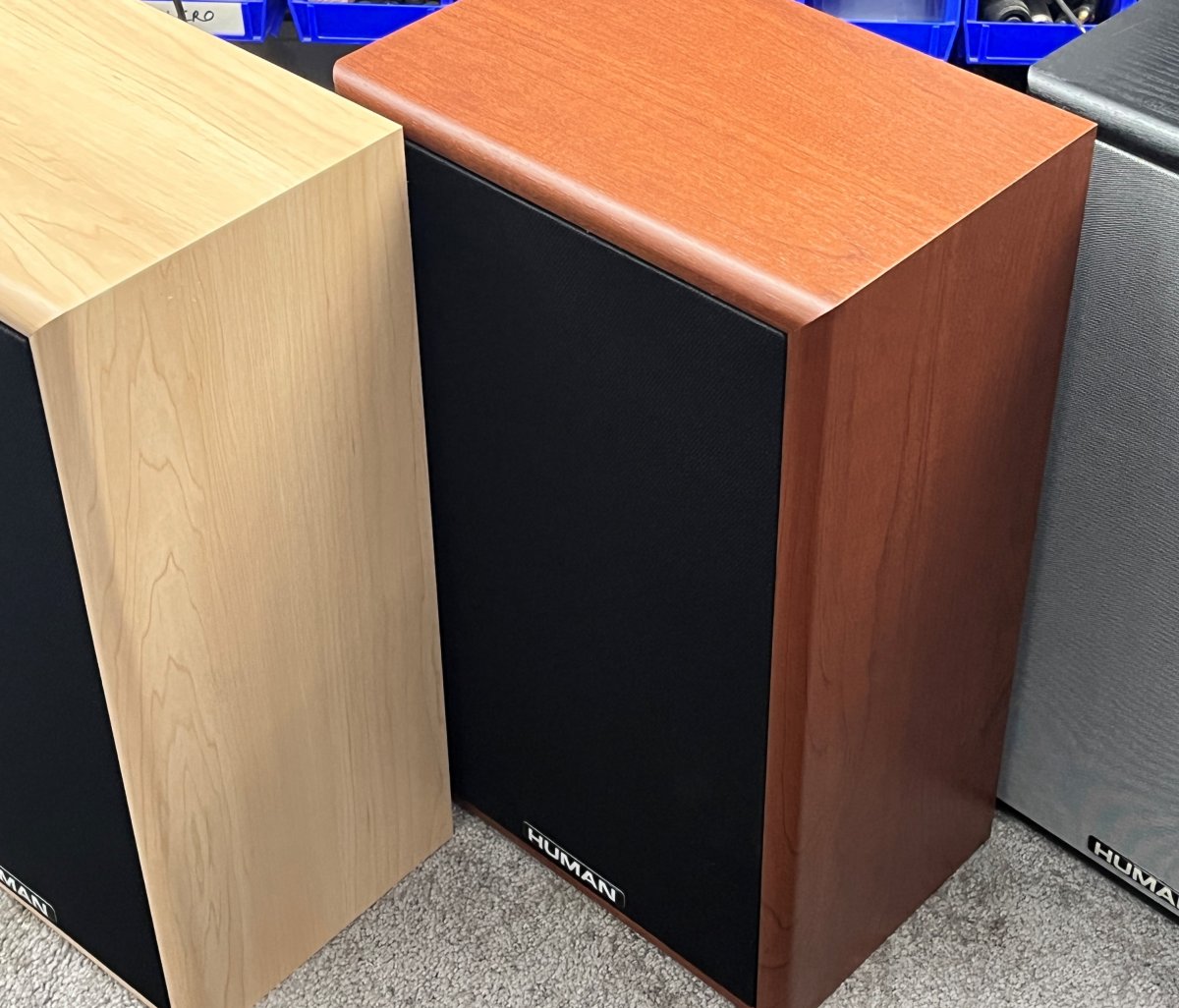 * * *
Top - Contact -
General Topics (Home)
New Speakers - Owner Support - DIY Projects
EPI and Epicure - Genesis Physics -
All Other Speaker Repairs
7 Kelsey Road, Lee, New Hampshire 03861
Like HUMAN Speakers on FaceBook:

Prices can change and specifications will improve without notice