Questions?
Call 603 659 5335 or email me
Best viewed in "landscape" mode.
Replacement/repair part number XTR 004
$7.00 each
This is a "new old stock" injection-molded, silver-stamped logo for Genesis Physics Corporation speakers.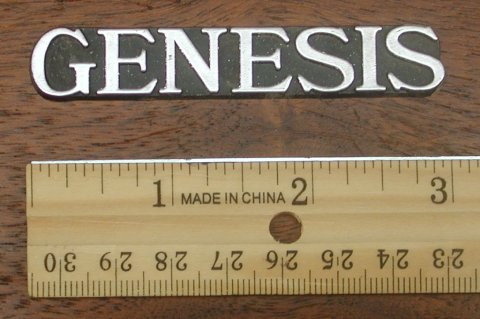 The dimensions are roughly 3" by 1/2". This size was used on all the larger models from about 1978 onwards. A smaller version was used on the smaller models. In the first few years, the logos were brass with green lettering (also in two sizes). The brass version is not available.
I normally ship them with foam double sided tape attached to the back for mounting - if you want to use glue of your own, please let me know so I can leave it off.
These are not on the order forms. They are listed at the bottom of the price list, however. If you want to buy some, just make a note in the "comments" box on the form.
If you are buying them without any parts, postage within the U.S. is $3.00 for any quantity up to eight.
* * *
Top - Contact -
General Topics (Home)
New Speakers - Owner Support - DIY Projects
EPI and Epicure - Genesis Physics -
All Other Speaker Repairs
© Copyright; All Rights Reserved
7 Kelsey Road, Lee, New Hampshire 03861
Like HUMAN Speakers on FaceBook:
Prices can change and specifications will improve without notice